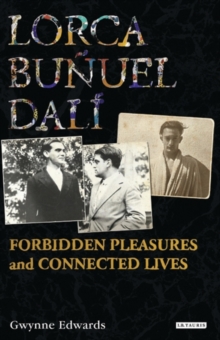 Lorca, Bunuel, Dali : Forbidden Pleasures and Connected Lives
Hardback
Description
Lorca, Bunuel and Dali were, in their respective fields of poetry and theatre, cinema, and painting, three of the most imaginative creative artists of the twentieth century; their impact was felt far beyond the boundaries of their native Spain.
But if individually they have been examined by many, their connected lives have rarely been considered.
It is these, the ties that bind them, that constitute the subject of this illuminating book.
They were born within six years of each other and, as Gwynne Edwards reveals, their childhood circumstances were very similar.
Each was affected by a narrow-minded society and an intolerant religious background which equated sex with sin and led all three to experience sexual problems of different kinds: Lorca the guilt and anguish associated with his homosexuality; Bunuel feelings of sexual inhibition; and, Dali virtual impotence.
Having met during the 1920s at the Residencia de Estudiantes in Madrid, they developed intense personal relationships and channelled their respective obsessions into the cultural forms then prevalent in Europe, in particular Surrealism. Rooted in emotional turmoil, their work - from Lorca's dramatic characters in search of sexual fulfilment, to Bunuel's frustrated men and women, and Dali's potent images of shame and guilt - is highly autobiographical.
Their left-wing outrage directed at bourgeois values and the Catholic Church was strongly felt, and in the case of Lorca in particular, was sharpened by the catastrophic Civil War of 1936-9, during the first months of which he was murdered by Franco's fascists.
The war hastened Bunuel's departure to France and Mexico and Dali's to New York.
Edwards describes how, for the rest of his life, Bunuel clung to his left-wing ideals and made outstanding films, while the increasingly eccentric and money-obsessed Dali embraced Fascism and the Catholic Church, and saw his art go into rapid decline.
Information
Format: Hardback
Pages: 256 pages, 16 integrated bw illustrations
Publisher: I.B. Tauris & Co. Ltd.
Publication Date: 17/06/2009
Category: General arts
ISBN: 9781848850071
Free Home Delivery
on all orders
Pick up orders
from local bookshops