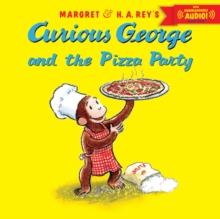 Curious George and the Pizza Party with Downloadable Audio
Paperback / softback
Description
George is going to a pizza party! George promises to be on his best monkey behaviour, but when he gets to the party and sees all of that pizza dough, George has a big idea. With rolling pin in hand, George rolls and rolls and rolls until his big idea lands him in big trouble.
But George's shaped pizzas turn out to be his biggest hits! This edition features a tasty veggie pizza recipe, put-the-steps-in-order activity, and downloadable audio! AGES: 4 to 8 AUTHOR: Hans Augusto Rey was born in Hamburg, Germany in 1898.
As a child, he spent much of his free time in that city's famous Hagenbeck Zoo drawing animals.
After serving in the army during World War I, he studied philology and natural science at the University of Hamburg.
He then married Margret Rey and they moved to Montmartre for four years.
The manuscript for the first Curious George books was one of the few items the Reys carried with them on their bicycles when they escaped from Paris in 1940.
Eventually, they made their way to the United States, and Curious George was published in 1941.
Curious George has been published in many languages, including French, German, Japanese, Afrikaans, and Norwegian.
Additional Curious George books followed, as well as such other favourites as Cecily G. and the Nine Monkeys and Find the Constellations. Colour illustrations
Information
Format:Paperback / softback
Pages:24 pages, full colour illustrations throughout
Publisher:Houghton Mifflin Harcourt Publishing Company
Publication Date:01/10/2013
Category:
ISBN:9780544109889