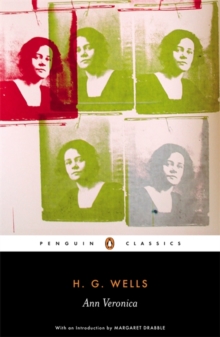 Description
Twenty-one, passionate and headstrong, Ann Veronica Stanley is determined to live her own life.
When her father forbids her from attending a fashionable Ball, she decides she has no choice but to leave her family home and make a fresh start in London.
There, she finds a world of intellectuals, socialists, and suffragettes - a place where, as a student in Biology at Imperial College, she can be truly free.
But when she meets the brilliant Capes, a married academic, and quickly falls in love, she soon finds that freedom comes at a price.
Information
Format: Paperback
Pages: 352 pages
Publisher: Penguin Books Ltd
Publication Date: 31/03/2005
ISBN: 9780141441092
Other Formats
EPUB from £1.07
CD-Audio from £17.95
Paperback from £18.95
eAudiobook MP3 from £16.76
Free Home Delivery
on all orders
Pick up orders
from local bookshops
Reviews
Showing 1 - 1 of 1 reviews.
Review by AMcBurnie
16/06/2015
I'd only read HG Wells' science-fiction, which all reek of their era, so this book was a surprise because it was published in 1909 but feels modern: the suffragettes, socialists and other trendy radicals that the heroine Anne Veronica gets involved with seem straight out of the late sixties/early seventies. Wells describes the confusion of Fabian meetings and the "inexplicable enthusiasm" of the suffrage movement, with its "incoherent cries for unsoundly formulated ends". The trendy revolutionaries have difficulty agreeing on anything and many of them are crackpots. The now familiar feminist political theories are presumably obtained from the author's many (all very bright) girlfriends - "Women have practically NO economic freedom," said Miss Miniver, "because they have no political freedom." <br/><br/>The atmosphere is modern even though there are still horse-drawn cabs, (along with electric lighting). <br/><br/>Anne Veronica wants to escape the prison-like restrictions imposed on her by her father, and runs away from home. She goes to suffragette meetings, but she can't stand the thought of getting involved in demonstrations, badgering cabinet ministers and all the undignified consequences. The laboratory where she attempts to pursue scientific studies provides a retreat for her: she loves its relevance, everything in it is focused on pursuing and identifying biological structures. But she is not a wimpy Victorian woman (definitely not like most of Charles Dickens' females); she's a toughnut. When a neighbour, Mr Ramage (note, change the "m" to a "v" and you get the idea), tries to force himself on her, she beats him up. In reaction afterwards, she gets involved in a suffragette riot and spends a month in prison.<br/><br/>The end of the book drifts and gets soppy, as Anne Veronica runs off with her One True Love (a scientist) and they wander all over the continent, presumably screwing their bums off. It all ends in unlikely happiness when he turns to writing and makes a fortune. Nevertheless worth reading for the strange familiarity of this now more than one-hundred year old world.<br/>