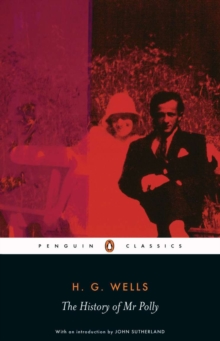 The History of Mr Polly
Paperback
Description
Mr Polly is an ordinary middle-aged man who is tired of his wife's nagging and his dreary job as the owner of a regional gentleman's outfitters.
Faced with the threat of bankruptcy, he concludes that the only way to escape his frustrating existence is by burning his shop to the ground, and killing himself.
Unexpected events, however, conspire at the last moment to lead the bewildered Mr Polly to a bright new future - after he saves a life, fakes his death, and escapes to a life of heroism, hope and ultimate happiness.
Information
Format: Paperback
Pages: 272 pages
Publisher: Penguin Books Ltd
Publication Date: 31/03/2005
ISBN: 9780141441078
Free Home Delivery
on all orders
Pick up orders
from local bookshops
Reviews
Showing 1 - 2 of 2 reviews.
Review by scatterall
16/06/2015
I read this not long after reading Orwell's Coming Up For Air. This one is a much better novel, but they're interesting as two books about very similar characters in very similar circumstances; in the wrong class in Britain at the wrong time, badly educated, badly married, dreams lost, no real prospects or hopes or pleasure left in life when the books begin. Wells is much more subtle about the blind ignorant ways in which people can make themselves miserable themselves in life, and get what they put out.<br/><br/>Also, in this one, the author has sympathy for his protagonist, warts and all, and he shows the internal forces shaping his life just as strongly as the external. Nobody in it is a simple caricature. And it is funny. I don't think I ever laughed out loud, but I was smiling a lot, and wincing too. The story is slower at first, and then starts leaping along in all kinds of startling and funny ways. The fire chapter is well worth the price of admission all by itself.
Review by baswood
16/06/2015
"Hole! said Mr Polly, and then for a change and with greater emphasis "Ole!" He paused, and then broke out with some of his private and peculiar idioms. "Oh! Beastly Silly Wheeze of a Hole!". Our first encounter with Mr Polly who is nearly at the end of his tether. He is an unhappy shopkeeper facing bankruptcy and has taken himself off after lunch to launch a tirade on the miserable world around him, suffering as he does every afternoon with indigestion. He hates his wife, he hates his neighbours and above all he hates his shop. Published in 1910 The History of Mr Polly became one of H G Wells best loved novels. Graham Greene was in the habit of labelling his books either as novels or entertainments, if H G Well had done something similar Mr Polly would have been an entertainment. After the darkness of Ann Veronica (his previous novel) Wells again has written another book of social commentary, but this one hides any seriousness in the glorious comic figure of Mr Polly. After our initial meeting with our hero, Wells then embarks on the History. Mr Polly's education was a mess, he was not particularly intelligent and failed to grasp much of what he was taught, he liked to read and lost himself in adventure stories. He got an apprenticeship as a drapers assistant and his life in the shop would have been unending drudgery, but for his meeting up with two likeminded youths with an interest in books and all things literary. Mr Polly hides his lack of education by a sort of deliberate mispronunciation of words, which can be funny, but often serves to puzzle those around him. Wells has much fun with Mr Polly's own peculiar language for example: thrusting competitors for jobs became the "Shoveacious Cult". Mr Polly is the opposite to being a thrusting competitor, he has difficulty in rousing himself to do much that he doesn't like and he soon loses his job when his apprenticeship is finished. "You have merely anti-separated me by a hair" Mr Polly said politely when he was being fired.Unemployed and at a loose end he is saved temporarily from the rat race by the death of his father who has left him a little money. At the funeral he meets his three female cousins the Larkin girls."Hen-witted Gigglers" and it soon becomes obvious that he will marry one of them, however he needs to do something with his fathers money to secure his livelihood and so he does what so many lower middle class people aspired to do in Edwardian times: He buys a little shop. He holds out from doing this as long as he can because he has an inkling it will be a prison sentence and that is just what it turns out to be. He has no aptitude for selling, he has no enthusiasm for his shop, and he soon falls out with his neighbours and is at war with the wife he has never loved. The reader has now caught up with Mr Polly on that fateful day after lunch when he puts the finishing touched to his plan to burn down his shop, cut his throat with a razor and incinerate himself. Mr Polly's plan usually go astray and while he is successful in burning down his shop and many of his neighbours shops, he forgets to cut his throat. While it is clear that Mr Polly has not the character to be a successful business man, it is also clear that being a small shop owner at the turn of the century was the undoing of many people. The big commercial concerns were beginning to cut the ground away from the owner occupiers and all of Mr Polly's neighbouring shop owners were facing ruin. Wells can't help himself in pointing his finger at disorganised capitalism and an unplanned economy, but limits himself to a rant of only a couple of pages. There are some marvellously funny set pieces in this book. Mr Polly's fathers funeral where he becomes an instant hit with the Larkin girls, his meetings with Christabel the girl on top of the wall that surrounds her school with whom Mr Polly falls desperately in love, his own more than successful arson attack and finally the showdown with the diabolic Uncle Jim. All the while Mr Polly dreams of something better and embarks whenever he can on his 'Exploratious menanderings " In many ways this is one of H G Wells' most thought through novels. He had previously demonstrated his ability to make his readers laugh in Kipps and The Invisible Man, but here he has created a comic figure with which many people can identify. Mr Polly does not set out to be funny but he undeniably is and when at the end of the novel he has fought his battles and come out; if not winning at least more content then we applaud. Wells' message might be that you can change your world. A wonderful entertainment and a five star read.