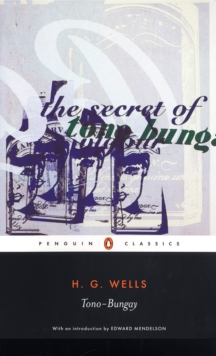 Description
Presented as a miraculous cure-all, Tono-Bungay is in fact nothing other than a pleasant-tasting liquid with no positive effects.
Nonetheless, when the young George Ponderevo is employed by his Uncle Edward to help market this ineffective medicine, he finds his life overwhelmed by its sudden success.
Soon, the worthless substance is turned into a formidable fortune, as society becomes convinced of the merits of Tono-Bungay through a combination of skilled advertising and public credulity.
As the newly rich George discovers, however, there is far more to class in England than merely the possession of wealth.
Information
Format: Paperback
Pages: 448 pages
Publisher: Penguin Books Ltd
Publication Date: 31/03/2005
ISBN: 9780141441115
Free Home Delivery
on all orders
Pick up orders
from local bookshops
Reviews
Showing 1 - 3 of 3 reviews.
Review by Ganeshaka
16/06/2015
Tono-Bungay. WTF? I mean, like, if you were browsing through Barnes and Noble, would you pick up a novel with a title that sounds like the Cherokee tribal name for Richard Simmons? And a novel by H.G. Wells? Didn't he write science fiction a long LONG time ago. He was steampunk before anyone knew what steampunk was? Well there you go, that explains why this masterpiece of a novel sleeps in oblivion. But do put aside your preconceptions, and do pick it up. Tono is, in many ways, very relevent, and satirizes societal and economic flaws that remain problematic. At its best moments, Tono-Bungay is another The Great Gatsby - a different author, a slightly different perspective, and a slightly earlier era -but every bit as poignant and lyrical a summation of the broken promises of "progress" and "success".The title, though it has a Malaysian flavor, and a whiff of H. Rider Haggard, actually refers to a bottled elixir much like Coca-Cola. The central story concerns a flim-flam, super hyped empire founded on that elixir, and the subsequent skyrocketing and plummeting fortunes of the chemist, Edward Ponderevo, who invents it. The epic is narrated by his nephew and assistant, George, who is the real protagonist of the novel. In parts, the novel contains semi-autobigraphical sketches by Wells, who, by the way, was much much more than just a science fiction writer (curiously, many of the best observers of the late Victorian and Edwardian eras are remembered only for their lighter work. Jack London, for White Fang, R.L.Stevenson for Treasure Island, H.G.Wells for the Time Machine, etc.)The novel is a melange of styles, starting out a bit like David Copperfield, containing a Conradian episode toward the end, and finishing with a flourish like F.Scott Fitzgerald. But the writing is clear throughout, and the narrative never waivers. Wells alternates between exploring the complexities of romance - as they are experienced by the nephew - and dissecting the absurdities of the business world - as it is exploited by his uncle. Along the way, we get a backwards look at the crumbling class structure of Victorian England - fading, for better or for worse. Ultimately, the sentiment conveyed by the nephew, lingers like complex perfume. Pessimism, romance, science, humor, nostalgia combine into a scent that evokes the glory, tragedy, and absurdity of human enterprise. A scent that lingers unto this century - as we, no wiser, use technological marvels like iPads to watch undersea robots struggle to plug a monstrous hole, a mile beneath a once blue, and fertile, sea.
Review by ChewDigest
27/08/2015
This isn't the H.G. Wells you think you know and it is a genius commentary of advertising and the boom/bust that it brings into our lives even today. Take what is basically water, call it Tono-Bungay and market the heck out of it as the medicine that will cure practically anything. You have a hit, a fad, the next big thing, but slowly that empire that you build on nothing starts to crumble. You start buying your own advertising slogans, everything you touch turns to gold and getting full of yourself. The bottom falls out and what is left?
Review by Kristelh
16/06/2015
Tono-Bungay by H. G. Wells, published in 1908.

This is a semi autobiographical fiction work. The narrator, George Ponderevo calls it a novel. George is a young man from the working middle class. His mother is a servant in Bladesover. George is sent away to learn a trade after he upsets the household. The major story follows George in the home of his uncle Edward Ponderevo. At this time George is studying the sciences with the plan to become a pharmacist with his uncle. His uncle loses his business and leaves George with the man who buys the business. The uncle finds a scheme to sell "Tono-Bungay" (Ton of Bunk) a treatment that will revitalize. George joins with his uncle even though he feels it is swindle because of his love pursuit. George is more interested in aeronautics and love pursuits. He marries rashly, has an affair, divorces and finally finds his one true love for which he sacrifices life to try and gain. George goes off on a sailing ship to gather quap which will restore his uncle's good fortune and hopefully his standing with his one true love, Beatrice. The book is a statement on advertisement, class structure in Britain and marriage among other loosely woven topics. It is partly satire on capitalism, advertising and the gullibility of the public. It also portrays George and Edward Ponderevo who are driven by greed.
Wells is known for his science fiction writing. This novel is not science fiction but the subjects of "Tono-Bungay", a pharmaceutical solution like you would by from the traveling medicine man, the creation of flying machines and air balloons and the quaf (radioactive elements) and the description of the quaf all are scientific topics.
H.G. Wells or Herbert George Wells was born in 1866 and died in 1946. He was a prolific writer in other genres besides science fiction but he is considered to be one of the father's of science fiction. He considered himself a socialist. His father was a domestic gardener, shopkeeper and professional cricketer and his wife was a former domestic servant. He was from the impoverished lower middle class. Wells was apprenticed to various occupations including draper and chemist which he failed at. He started to attend school as a pupil teacher and he earned a degree in zoology in 1890. Well's married twice and had numerous affairs. Tono-Bungay is very futuristic as it explores advertising and also the decay of radioactive elements.
This was a free book at Amazon and is also available at other sources on the internet for free.