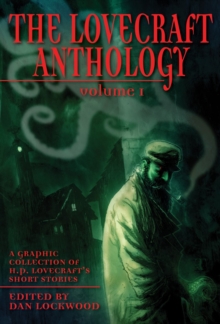 Lovecraft Anthology Vol I
Paperback
Description
A graphic anthology of tales from the renowned master of the eerie.
Featuring collaborations between established writers and artists as well as debut contributors, The Lovecraft Anthology Vol.1 showcases Lovecraft's talent for the macabre.
From the insidious mutations of 'The Shadow Over Innsmouth' to the mind-bending threat of 'The Call of Cthulhu', this collection explores themes of insanity, inherited guilt and arcane ritual to startling effect.
Charting the squirming mysteries of the unknown, Lovecraft's short stories are brought to vivid and malevolent life.
Information
Format: Paperback
Pages: 120 pages, chiefly Illustrations
Publisher: SelfMadeHero
Publication Date: 01/04/2011
Category: Comics and Graphic Novels
ISBN: 9781906838287
Free Home Delivery
on all orders
Pick up orders
from local bookshops
Reviews
Showing 1 - 5 of 5 reviews.
Review by carpentermt
16/06/2015
The Lovecraft Anthology, Volume 1 is a production of SelfMadeHero from the UK, edited by Dan Lockwood. The attractive cover art seems to show a street scene in Innsmouth and is by Ben Templesmith. They have plans for producing comic book adaptations of most of HPL's famous works. The Lovecraft Anthology is a handsome production and I think delivers good value for the purchase price. While I may quibble with this or that in a comic book adaptation from the master, these stories for me will stand or fall with the artwork.Here are the contents, and the artistic team. All are adaptations of HPL's famous stories.The Call of Cthulhu – writer Ian Edgington, artist D'Israeli – The major competition for this book is the magnificent version of John Coulthart, available in his compilation The Haunter of the Dark: And Other Grotesque Visions. This new version is more comparable to, say, the recent release of Michael Zigerlig's adaptation from Transfuzion Publishing. I enjoyed Edgington and D'Israeli's efforts (although, as usual for everyone but maybe Alan Moore, they tended to smooth over HPL's racist references like nautical looking Negro). The best panels were those of Cthulhu itself. Anyway, this was an auspicious start to the book.The Haunter of the Dark – writer Dan Lockwood, artist Shane Ivan Oakley – Mr. Coulthart never finished his version of this tale and all we have are a few tantalizing images. Otherwise the creative team has the playing field to themselves as far as I know, and they do a crackerjack job. The stylized art is evocative and effective.The Dunwich Horror – writer Rob Davis, artist INJ Culbard – Well, I thought Mr. Culbard's adaptation of At the Mountains of Madness was OK but I was not bowled over by the art. Rob Davis' text is OK enough but I was underwhelmed by the art, particularly the depiction of Wilbur Whateley's twin. There are no other versions of this that I know about but if you can abide the weak story, the manga Taimashin volume 1 by Hideyuki Kikuchi has some wonderful images of this monster.The Colour Out of Space – writer David Hine, artist Mark Stafford – I don't know of any other comic book adaptations of this story. Alas I did not like Mr. Stafford's art at all. The Shadow Over Innsmouth – writer Leah Moore & John Reppion, artist Leigh Gallagher – Everyone and his brother has drawn a Deep One but darned few have taken on the classic HPL story that spawned them. Writer Alex Burrows and artist Simon Gane gave us a half baked version in Graphic Classics: HP Lovecraft. The creative team from Selfmadhero puts the older version in the shade. I thought Leigh Gallagher's art was particularly attractive. Dagon – writer Dan Lockwood, artist Alice Duke – This may be the best story in The Lovecraft Anthology, with lovely art by Alice Duke and an acceptable adaptation of the prose. I think I may prefer Richard Corben's version in Haunt of Horror: Lovecraft, but it's a close call. Another alternative is Sergio Cariello's in The Worlds of HP Lovecraft: Dagon and Other Tales compilation from Transfuzion Publishing, also a noble effort.Overall I greatly enjoyed this book, with the only fly in the ointment being some art that I didn't care for. However the work by Alice Duke, Leigh Gallagher and others more than made up for it so I offer up a warm recommendation. I hope we see more Lovecraftiana from this source.
Review by othersam
16/06/2015
H. P. Lovecraft is probably the most influential Horror author who ever lived. The Lovecraft Anthology Volume 1 (edited by Dan Lockwood) is a brand new collection of some of Lovecraft's classic short stories, adapted into /comics/. And it's fantastic!One of the unique qualities of Lovecraft's writing is his wonderfully wild and over-ripe language. I love it, it's part of what gives his stories their amazing and weird and terrifying flavour, but I suppose one can't be surprised if some people look at it for the first time and just say "Wha-?" Well, these comics versions are brilliant: they capture the fevered atmosphere and pungent essence of stories like Dagon, The Shadow Over Innsmouth and (of course!) The Call of Cthulhu, but in a fast and tight and visual way that I reckon would be a great jumping-off point for those who haven't yet tried the originals.If you don't know Lovecraft, you don't know Horror. Here's hoping this book helps pass his eldritch influence on to the next generation. :D
Review by andrewspong
16/06/2015
A fantastic take on some HPL classics. High quality throughout, and thoroughly recommended.
Review by questbird
16/06/2015
A good collection of graphic adaptations of H.P. Lovecrafts best-known tales.
Review by calum-iain
16/06/2015
This anthology is a graphic collection of H. P. Lovecraft's best known short stories, from publisher Self Made Hero and edited by Dan Lockwood, who also writes a number of the adaptations. Behind a cover by Ben Templesmith there are seven adaptations, all of which have something of merit to them. Unfortunately, all the artwork takes an overly cartoony approach and veers away from any form of realistic depiction of the stories. The "cartoony" approach works well for each individual story, but unfortunately becomes a bit too similar and repetitive when viewed within the context of the overall book. Without doubt the anthology would have benefitted immeasurably from a mix of artistic styles and approaches. My favourite adaptations were the first and the last in the book. The first is Lovecraft's most iconic tale, "The Call of Cthulhu" by Ian Edginton and D'Israeli. Edington's approach cleverly abridges elements of the story, while capturing the essence of Lovecraft's cosmic horror, while D'Israeli, whose art style is an acquired taste, provides some beautiful, clean line designs with a clever use of changing colours. The book ends with "Dagon" adapted by Lockwood and drawn by Alice Duke, whose watercolour artwork brings a disturbing and gruesome, half-hidden feel to the story. Lockwood's adaption is faithful and mysteriously surreal, despite the finale lacking a touch of clarity. In between these two excellent adaptations are: "The Haunter of the Dark" by Lockwood and Shane Oakley; "The Dunwich Horror" by Rob Davis and I. N. J. Culbard; "The Colour Out of Space" by David Hine and Mark Stafford (some clever, twisted imagery here); "The Shadow Over Innsmouth" by Leah Moore, John Reppion and Leigh Gallagher (great use of colour) and "The Rats in the Walls", again by Lockwood and drawn by David Hartman in a studiously creepy style. Despite my concern about the samey quality of the artistic styles, this is still a very decent anthology. The writers have done well in cutting to the core themes of the stories and honing in on the visual aspects that are critical to the comic book medium. The artists have done reasonably well in grappling with the "indescribable" horrors and Lovecraft's odd turn of phrase. There are better adaptations of these tales out there, but this is still a nice wee anthology, well worth reading and pouring over.