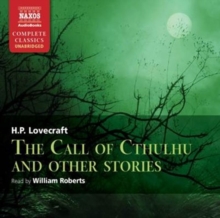 The Call of Cthulhu
CD-Audio
Description
This collection includes a selection of H. P. Lovecraft's finest chilling tales. Lovecraft's most famous monster is Cthulu, a gargantuan beast which has been lying dormant for millions of years but rises up and forces mankind to recognise its fundamental ignorance, powerlessness and insignificance.
Lovecraft is an accomplished master of suspense, releasing information slowly and deliberately through fragmented first-person accounts so that the full impact of the awful truth is reserved until the end.
Each of these stories masterfully plays with our fears and conjures up a mounting sense of horror, paranoia and dread.
Other Formats
Paperback from £3.59
Hardback from £7.29
Free Home Delivery
on all orders
Pick up orders
from local bookshops
Reviews
Showing 1 - 1 of 1 reviews.
Review by AshRyan
16/06/2015
Lovecraft's bizarre tales of fantastic, almost metaphysical, horror can make for some surprisingly good reading, as long as you don't take them too seriously. They are often surprisingly well-written---much more so than a lot of today's horror fiction, which is often only a pale imitation of Lovecraft's work. It isn't easy to write so as to get the reader to suspend his disbelief about phenomena as weird as this, but Lovecraft often managed to pull it off. This audiobook collects four such stories."The Call of Cthulhu" is a, one is almost tempted to say THE, classic of the genre. It tells of one man's attempt---after encountering a hideous bas-relief sculpture of a being reminiscent of "simultaneous pictures of an octopus, a dragon, and a human caricature.... A pulpy, tentacled head surmounted a grotesque and scaly body with rudimentary wings"---to piece together several tenuously connected strands of evidence, from an artist's nightmare visions to reports of cult rituals worshiping ancient gods and mysterious happenings at sea, to discover the truth about Cthulhu...with dreadful consequences for his sanity."The Hound" is an earlier story, obviously influenced by Edgar Allen Poe and even perhaps to some extent by Arthur Conan Doyle's The Hound of the Baskervilles, in which a couple of grave robbers get more than they bargained for. It marks the first appearance of The Necronomicon, placing it within the universe of the Cthulhu mythos."The Dunwich Horror" is perhaps the best story here, and rather than the influences on Lovecraft, his influence on later writers is abundantly evident here. Echoes of just this one story can be seen in the writings of Stephen King, Robert Bloch, Dean Koontz, and F. Paul Wilson, among many others, and in episodes of TV shows like The X-Files (such as "Home") and movies from The Village of the Damned to Cabin in the Woods. It tells the story of an inbred, backwoods girl who gives birth to a disturbingly peculiar child, whose physical and mental development is much faster than normal, and who develops an interest in occult practices and travels to Miskatonic University in Arkham to study certain rituals in the Necronomicon in order to summon forth the Outer God Yog-Sothoth...but before he can put his sinister plan into effect, his untimely death sets loose the other mysterious presence dwelling in his farmhouse in Dunwich, until Miskatonic's librarian and two of its professors arrive to try and stop it."Dagon" is another early story, often not counted among those in the universe of the Cthulhu mythos, but which prefigured "The Call of Cthulhu" in many ways and bears many striking similarities to it (though on a less grand scale).William Roberts's narration of this audio edition is excellent...his rendition brings the stories to life and makes them eerily real, rather than hokey or campy. I definitely recommend it.