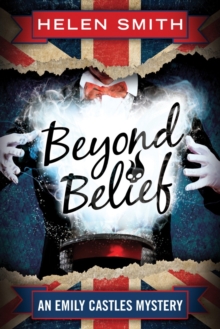 Description
Emily Castles, spare-time private investigator, full-time desk jockey is at it again! When renowned psychic Perspicacious Peg predicts a murder will occur at England's Belief and Beyond conference, her skeptical colleagues recruit twenty-six-year-old budding sleuth Emily to attend the event to investigate. The suspected victim is illusionist Edmund Zenon, who plans to perform a daring stunt at the conference.
In the seaside town of Torquay, Emily meets a colorful cast of characters: dramatic fortune-teller Madame Nova; kindly Bobby Blue Suit and his three psychic dachshunds; Sarah and Tim Taylor, devastated parents mourning their late son; and religious cult members Hilary, Trina, and the Colonel. Tensions rise as believers in science, the supernatural, and the spiritual clash with one another. But once a body count begins, Emily must excuse herself from the seances and positivity circles, and use old-fashioned detective work to find the killer.
Information
Format: Paperback
Pages: 230 pages
Publisher: Amazon Publishing
Publication Date: 28/01/2014
Category: Crime & mystery
ISBN: 9781477849729
Free Home Delivery
on all orders
Pick up orders
from local bookshops
Reviews
Showing 1 - 4 of 4 reviews.
Review by cathyskye
16/06/2015
For all the tweets and Twitter mentions of Gerald Ayode, president of the Royal Society for the Exploration of Science and Culture, this book actually feels as though it takes place in the 1930s and 1940s of the "Thin Man" movies starring Myrna Loy and William Powell. Beyond Belief moves along at a leisurely pace, and its humor is gentle-- those aforementioned tweets are one of the best parts of the book. Smith excels in creating setting, atmosphere, and a dazzling array of characters, but the book lacks cohesion.This is the fourth book in the Emily Castles series, and the first that I've read. From the beginning I felt as though I was missing some important background on the main characters, and this feeling never went away. Although the cast is marvelous, several of the characters' motivations were never clear. The tone of the book jerks back and forth between Smith's wacky, gentle humor to a more sinister note. If anything, I felt that this story needed about fifty more pages to add more detail and to smooth out rough spots. There's much to appreciate in Beyond Belief: the author's ability to set a scene, her talent for characterization, her use of humor; but in the end the story itself isn't quite up to the task.
Review by Jaylia3
16/06/2015
This British flavored mystery has just the right mix of the endearingly quirky characters and reserved/absurd humor to make reading it a delight. I thought I was in for a treat when I read the premise: murder at a seaside gathering of skeptics and believers including psychics, philosophers, astrologers, ethicists, magicians, psychologists, and anthropologists. Beyond Belief didn't let me down. When several psychics predict a death by drowning at the Belief and Beyond conference and police won't take this not-yet-committed crime seriously, they actually have the gall to snigger, conference organizers turn elsewhere. Emily Castle is a very amateur sleuth, most of the time she has a boring desk job that suits her just fine, thank you very much, but now she is getting a free weekend at the conference's spa resort location to be a "future crimes investigator", which the psychics believe she is qualified for because she's a vegetarian, she has a dead dog that she thinks about a lot, and she always carries a notebook to jot down her thoughts. More than half of the book goes by before there is a murder, but I was having such a good time with the characters debating beliefs in oceanside cafés, warding off evil in positivity circles, and seeking guidance from the indifferent dead in séances that I didn't mind the delay. This is not the first book in this series, but that caused me no difficulty as I was reading.
Review by AGPadgett
16/06/2015
For the first hundred pages or so, "Beyond Belief" was more like a slice of British life, albeit with folks who might or might not believe in extra-sensory perception or other paranormal talents. It was interesting, that is, it held my interest, but as it continued with nary a dead body, I found myself wondering when the mystery was going to start. Once folks started dying, however, the bodies piled up and the last one hundred pages were a solid mystery.I found the premise fun and interesting, with a magician offering a reward to anyone who can prove their paranormal talents are real. There was quite a large cast of people involved, and I sometimes mixed up some of the secondary characters, particularly Sarah and Hilary. The main character, Emily, was kind of lackluster. In fact, I found her boring and her constant writing down of mundane things in her notebook was incredibly irritating to me by the end of the story. Personally, I liked her friend, Dr. Muriel better. She was much more fun and interesting as a character. She seemed smarter, too, and generally more likable and less of a drip.All of that sounds a lot more negative than it should. It really was an enjoyable British mystery. Fans of cozy mysteries will probably not be disappointed.
Review by mckait
27/08/2015
Beyond Belief by Helen Smith is an entertaining enough read. There is a likable but somewhat eccentric group that all gather at the England's Belief and Beyond Conference in Torquay, a lovely little seaside town, Some are there to prove to famous skeptic Edmund Zenon that the paranormal is real, and collect the fifty thousand pounds he has offered to whoever can do this to his satisfaction. His criteria is a mystery, and some are skeptical that the skeptic will actually deliver. Some, like Bobby Blue Suit and his three possibly psychic dachshunds are just there to try to score more gigs on the psychic circuit.Poor, quite Emily and her notebook tend to disappear into the crowd.She has come along at the request of her friend Dr Muriel, who has convinced her friends Gerald, and Perspicacious Peg of the Royal Society for the Exploration of Science and culture to hire Emily as Future Crimes Investigator. This came about after Peg had a premonition that the famous Edmund Zemon would die at the conference...or if not Zemon, that someone certainly would.What follows their arrival in Torquay is a rather madcap adventure, where the original group accompanying Muriel and Emily, attract other convention attendees, including a poor young magician and his very limber girlfriend, a couple whose son passed away, and the psychic medium who has convinced at least the mom that he in in touch with the deceased Liam, and a group trying to save Edmund's soul.You get the picture. Someone does indeed get all wet, but as for the premonition, does it come true? IS Emily able to use her notes to discern if a crime is occurring and if yes, just what it might be? And what about Muriel? Are there shenanigans affot? OR is there at least a flirtation? Well, you will have to read it to find out. If I told you, it would spoil it all, wouldn't it?
Also in the Emily Castles Mysteries series