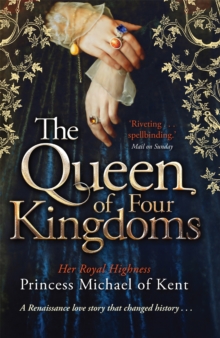 The Queen Of Four Kingdoms
Paperback
Description
At the age of nineteen, Yolande of Aragon is sent away from her family, her friends, and everything she knows, to marry the young Duke of Anjou, King Charles VI's first cousin.
Their marriage has been arranged to form an alliance between the previously warring kingdoms of Aragon and Anjou, and is politically fraught in a time of great danger and unrest.
Yet the union between Yolande and Louis becomes not only a great love story, but also sets in motion events which will change the course of history.As Louis spends more and more time and money fighting in Italy for his claim to the Kingdom of Naples, Yolande is left alone with their six children to govern their lands.
But through her charm, fierce intelligence and the clever use of her spies, she becomes the saviour of not just her kingdoms but also of France. Her Royal Highness Princess Michael of Kent unveils this seldom told story, enriched by her own insider's perspective of royal life.
The Queen of Four Kingdoms is the epic true story of a rich and riveting period of French and English history, all witnessed by the captivating and complex heroine Yolande.
Information
Format: Paperback
Pages: 464 pages
Publisher: Little, Brown Book Group
Publication Date: 06/03/2014
Category: Historical fiction
ISBN: 9781472108463
Other Formats
Hardback from £15.19
EPUB from £8.99
Free Home Delivery
on all orders
Pick up orders
from local bookshops
Reviews
Showing 1 - 3 of 3 reviews.
Review by Nicole_Russell
16/06/2015
As I understand it, this is the author's first attempt to write historical fiction, she has previously written 3 biographical non-fiction works. As a first attempt, I think it is pretty good. Her use of tense (current instead of past tense) leaves the reader confused at times. All-in-all, I found the characters interesting and the events easy to follow, and Yolande an amazing woman in history
Review by DeltaQueen50
16/06/2015
The Queen of Four Kingdoms tells the fascinating story of Yolande of Aragon. Set in the turbulent 15th Century, this is a wonderfully detailed book that involves most of the prominent people of the times. As a young girl, Yolande, Princess of Aragon, is sent to France as the bride of Duke Louis II of Anjou, first cousin to the King of France. Through her marriage and her eventual children, this extraordinary woman plays an important role in much of the history of her time.Her marriage was a great success, as the two young people fall in love and stayed close until her husbands' death. As his widow, the Duchess of Anjou, Countess of Provence had much influence over Charles VII, the future King of France. He was virtually raised by her and her elder daughter was betrothed to him and became his Queen. He was born the third son but eventually became the Dauphin after his two older brothers died. Yolande was an expert manipulator and had spies in most of the prominent households of France. Her loyalty was to France first and foremost, and to her family.The Queen of Four Kingdoms was an extremely readable story about a remarkable woman. The author, HRH Princess Michael of Kent is a well known historian and has previously written non-fiction books. Even though this is her first work of fiction, she brings both the characters and the 15th century to life. Excellently researched and wonderfully told, I enjoyed this story very much.
Review by katylit
16/06/2015
15th century France, not a history or country that I have been too familiar with, but now having read The Queen of Four Kingdoms I am enlightened and intrigued to learn more. This story, written as historical fiction but based on fact as much as possible, is fascinating. I delighted to read about the life of Yolande D'Anjou, growing up as the daughter of the King of Aragon, marrying the young Duc D'Anjou, their loving, successful marriage, their many children and learning about her extraordinary strength of character, intelligence and devotion to her adopted country. This book is filled with all the drama one can expect of medieval Europe, wars, intrigue, deception, fluid alliances. But there are also surprises in the strength and influence of some of the royal women. HRH Princess Michael of Kent has written a wonderful, detailed story that I found very difficult to put down. I'm very glad she's writing more.
Also by HRH Princess Michael of Kent | View all