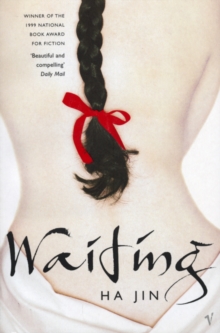 Description
For more than seventeen years, Lin Kong, a devoted and ambitious doctor, has been in love with an educated, clever, modern woman, Manna Wu.
But back in his traditional home village lives the humble, loyal wife his family chose for him years ago.
Every summer, he returns to ask her for a divorce and every summer his compliant wife agrees but then backs out.
This time, after eighteen years' waiting, Lin promises it will be different.
Information
Format: Paperback
Pages: 320 pages
Publisher: Vintage Publishing
Publication Date: 05/10/2000
ISBN: 9780099287599
Free Home Delivery
on all orders
Pick up orders
from local bookshops
Reviews
Showing 1 - 4 of 4 reviews.
Review by dougwood57
16/06/2015
'Waiting' is a strange tale to a Westerner. Jin Kong and Manna Wu wait 18 years for Jin to finally successfully divorce his wife after many attempts. They seem to be in love, but are they really? Or is the waiting simply making Jin desire what he cannot have? Or once he gets it will he just want something else, like what he had or could have had but always rejected? The book deftly portrays the interplay of rural Chinese traditions and the Communist Chinese bureaucratic rules - both of which seem designed to prevent happiness and to constrict and bind the characters (sometimes literally). The restrictions force Jin to live in his head and make the reader want to strangle him at times. Not necessarily a 'fun' book, but a fascinating read nonetheless.
Review by SmithSJ01
16/06/2015
This book is 'okay' and for me not much more. It is a very simple read, which is a plus as I felt the plot was lacking. I agree with a reviewer further down the page who said there was nothing to feel for the characters and I was left cold. The story itself started out really well. I remember saying after I'd read the prologue that it was good. However I'd forgotten they had to wait for 18 years and boy did it feel like 18 years. Lin is completely spineless! Fair enough that he couldn't divorce his wife but he was totally unprepared to at least try out a relationship. I suppose that shows good values but would you wait 18 years for anyone when you could have a relationship with other people. She clearly wanted a family and seemed to miss out on so much because of this. Both of them failed at getting promotions also. A long drawn out tale about their life in the army compared to his 'country' life back home. I think you really need to be interested in the culture to enjoy this book and I'm not. No emotion, no depth and unconvincing.
Review by TheoClarke
16/06/2015
It is too easy to use the title of this novel as a cheap shot about the tedium of its pace. Most of the plot is implicit in the first paragraph of the prologue and, although the author conveys a sense of the quiet oppression of life in Communist China, the dry precision of the descriptive passages only serve to slow the pace further. The phrasing is lapidary and admirable for that but this tautness is distancing. The characters are clearly delineated but I found none of them warming. So, this wins points for style but lacks the human engagement that I seek from a novel.
Review by xuebi
16/06/2015
Waiting, by Ha Jin, is a romance story but not a typical one. Sure the boy meets the girl and they eventually fall in love or so they think, but there's a continual obstacle on their way to bliss: the boy has a wife back home. For nearly twenty years, Lin Kong has loved the modern, educated Manna Wu, who works with him at a hospital but back home, rooted in millennia of Chinese tradition, is his wife whom his family chose for him years ago. Every summer he goes home to divorce her but, although his wife agrees at first, she always withdraws.

Ha Jin portrays the problems, pitfalls, and occasional joys of romance and love in the bizarre days of the Cultural Revolution and its aftermath, where even a couple talking together in private was viewed with extreme suspicion. The extent to which everyday life was controlled under the Maoist system is startling - even preferences for books had to be carefully chosen: one character voices concern over his own liking for then-out-of-vogue Russian novels.

This novel though is primarily one focusing on the character of Lin Kong: he is a decent, average man, if a little weak-willed, and Ha Jin shows his development, or indeed lack thereof, over the two decades that pass in the novel's timeline. Throughout the novel, Lin Kong always pines over the woman he cannot have: at first, this is merely Manna Wu but after his eventual divorce from his first wife and their eventual marriage, he starts to see how his former object of affections no longer offers him the same thrills as before. Towards the novel's end Lin Kong confesses that he will wait for his former wife since Manna Wu has a chronic heart condition and will die soon. Ultimately then, the reader sees the depths of the flaws in Lin Kong (for which Ja Jin is to be commended): he is unable to love wholeheartedly or with maturity, always longing for what he cannot have. This mind-set is explored in an inner monologue Lin Kong has and sets the novel's finale up.

Ha Jin, then, has ably portrayed not only the minefield of love during the time of Mao, but also has shown and explored the complexities of human longing, of how circumstances and time often unfairly intervene in the best-laid plans of men.