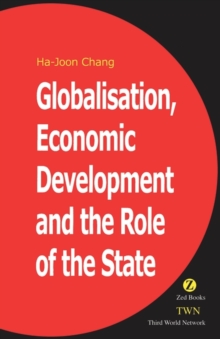 Globalisation, Economic Development & the Role of the State
Paperback
Description
The role of the state in the economy has always been a controversial issue in public debate, but it has become more so in the last quarter of a century with the rise of neoliberal thinking that preaches the virtues of unregulated markets and recommends de-regulation, opening-up, and privatisation.
This push for a minimal, pro-business state, especially in developing countries, has been further intensified with both the rise of globalisation and the many radical neoliberal 'reforms' implemented, often under pressure from multilateral agencies (such as the IMF, the World Bank, and the WTO).
In this book, the author highlights the failure of neoliberalism, especially in developing countries, or what he terms 'the intellectual bankruptcy of neoliberalism', which, he believes, 'stems ultimately from its failure to base its discourse on a balanced and sophisticated theory of the inter-relationship between the market, the state, and other institutions'.
He also tries to construct a credible alternative theoretical framework to neoliberalism, informed by a balanced understanding of empirical evidence.
The issues covered concern a rather wide range of domestic and international policy issues - including trade policy, privatisation, transnational corporations, and intellectual property rights.
Information
Format: Paperback
Pages: 344 pages
Publisher: Zed Books Ltd
Publication Date: 01/07/2003
Category: Development studies
ISBN: 9781842771433
Free Home Delivery
on all orders
Pick up orders
from local bookshops