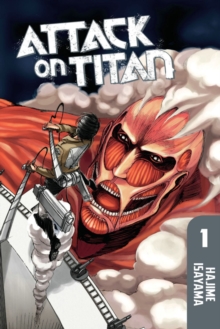 Attack on Titan 1
Paperback
Information
Format: Paperback
Pages: 200 pages
Publisher: Kodansha America, Inc
Publication Date: 14/06/2012
Category: Manga
ISBN: 9781612620244
Free Home Delivery
on all orders
Pick up orders
from local bookshops
Reviews
Showing 1 - 5 of 5 reviews.
Review by EMaree
16/06/2015
Good, but the anime is far superior (better pacing and a kick arse soundtrack).
Review by vombatiformes
16/06/2015
I am reading the Attack on Titan manga series because I absolutely adore the anime adaptation of it, and would like to be exposed to as many related things as possible. I was especially interesting in seeing if and how the manga and anime differ. Unfortunately (or fortunately, depending on whether you're looking at this from the POV of a fan of the anime or manga first) the manga and anime are actually extremely similar. There just isn't much new material either which way, although there are some chronological differences. Still, I LIKE the anime and enjoyed reading the story as much as I did watching it. It was nice to go back and relive some old scenes (especially as things go downhill fast for basically every character). I can find something to really like about nearly every character, and enjoy the thought that is put into the side characters especially. Though they have been placed in this dystopian world in which giants exist just outside the constructed walls of their cities (with no objective other than to devour as many humans as they can) they are incredibly focused and complicated. Though their immediate concerns are obviously the threat to their lives, you can still see their personalities and strengths begin to shine through the chaos. My MAJOR disappointment (and the reason I gave this volume 4 instead of 5 stars despite being such a fan of the series) is the art. It's downright awful. I don't, generally speaking, find manga art usually very exciting, but there is a certain level of quality I've come to expect with professional publications... and this falls so short of the mark that it sometimes feels like a joke. The writing is great, and I absolutely think Isayama deserved to have his story brought to life (I'm very grateful that it was!) but perhaps someone else should have been in charge of the art. His story writing is nearly flawless, but at times it's very hard to understand what's going on because the images are so hard to decipher and characters and titans are drawn so sloppily that it is comical.I will continue reading the manga series because I do enjoy the story and characters so much, but I am (probably in vain) hoping to see an improvement in the quality of the art as time goes on.
Review by Kassilem
16/06/2015
I ended up watching the anime before reading this because I didn't like the artwork as much as actually watching the story. However the anime is not caught up with the story and I couldn't wait for it to catch up before getting more. However I did decide to go back and start from the manga beginning. It just means I will get the great story again in a different format. The artwork isn't too bad, but it's not great either in my opinion. However I hear that it gets better with time. As for the story: the story is amazing. Horrific and heart-wrenching, and amazing because of that. This is a deep story and it doesn't go easy on the reader. On that note, this volume ends on a really really huge terrible cliff-hanger so make sure you have the next volume on hand. I don't think I cried, but I came close. Since I watched the anime I know what happens up to a point. I am looking forward to getting to the part where the manga will be new for me.
Review by TheDivineOomba
27/08/2015
 This is a review for the first 14 volumes, because I read them all at once, in about three days. For the most part, each volume is like one chapter of this story, so it works.I really do like Attack on Titan - I started with watching the Anime, and finding out Season 2 won't come until 2016 - I realized I need more story, there is just too much odd stuff with this series, and totally heartbreakingly scary. Death is not sugarcoated. And people here die in horrible ways, usually by getting eaten by a Titan. The story is tight - the graphics are top-notch. Highly recommended if you are looking for something that is different, but grabs you, emotionally.The characters are well written, even the ones that are written as a comic relief (Sasha and her appetite for example). These are all emotionally developed characters, who grow from the begining of the series as fighting titans takes it toll (along with learning about corruptness of some humanity). These are not people who want to fight. These are people who do what it takes to survive and protect humanity.I think I like the anime better, but it might be because the color and sound adds a lot to the horror that is a titan. The plot between the two versions are almost the same, except for vary minor changes.
Review by benuathanasia
27/08/2015
Not as good as the anime. It's more difficult to get into, more "jumpy" (it quickly goes from one scene to another - one place or time to another), and the characters are <i>far</i> less developed than in the anime. Overall, meh.