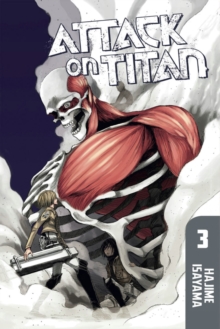 Attack on Titan 3
Paperback
Information
Format: Paperback
Pages: 200 pages
Publisher: Kodansha America, Inc
Publication Date: 12/04/2012
Category: Manga
ISBN: 9781612620268
Free Home Delivery
on all orders
Pick up orders
from local bookshops
Reviews
Showing 1 - 4 of 4 reviews.
Review by vombatiformes
16/06/2015
My favorite volume in the series so far. As always, the art is horrible, but Isayama's skill at character development really starts to shine. Even the secondary characters like Pixiv are really interesting and diverse, and never really feel superfluous or like filler characters. It's clear that he's put a lot of thought into everyone he writes into the story and it makes the entire thing seem much more real. There are a lot of really horrible scenes in this volume, especially as the soldiers prepare to support Eren's attempt to plug up the wall. Isayama does a really good job capturing the fear and uncertainty of the soldiers as they become more and more certain that their attempts at fighting the titans are useless. It's really heartbreaking, especially knowing how many of these characters will probably die.
Review by Kassilem
16/06/2015
This volume consists of chapters 10-13, with a small side story added in as an intro. Most of this volume is a question. What the heck is happening to Eren? Where did these sudden powers come from? And are they powers that will help or will they make things worse if he can't control them? Some interesting things are brought up here as well, concerning Eren's father, who is a complete mystery at the moment. One thing I like about these volumes is that they don't shy away from human fragility. The series is pretty good at depicting the horror these characters are going through. It would break anyone, and it breaks a lot of these characters, those that survive. I can't even imagine the survivor's guilt and the bone deep terror they go through every time titans are around. And yet most still prevail. It's not an easy topic to think about when reading this, the huge losses of people dealt so that even more might survive, when even one person's death seems to many. But what else do you do when five hundred dead can save five thousand? What choice do you make? I do not envy the decisions these officers have to make. Especially when there is not guarantee those five hundred dead really will save the rest. Anyways, if you're into psychology you might enjoy this horror trip of a series. I can't put them down myself.
Review by TheDivineOomba
27/08/2015
This is a review for the first 14 volumes, because I read them all at once, in about three days. For the most part, each volume is like one chapter of this story, so it works.I really do like Attack on Titan - I started with watching the Anime, and finding out Season 2 won't come until 2016 - I realized I need more story, there is just too much odd stuff with this series, and totally heartbreakingly scary. Death is not sugarcoated. And people here die in horrible ways, usually by getting eaten by a Titan. The story is tight - the graphics are top-notch. Highly recommended if you are looking for something that is different, but grabs you, emotionally.The characters are well written, even the ones that are written as a comic relief (Sasha and her appetite for example). These are all emotionally developed characters, who grow from the begining of the series as fighting titans takes it toll (along with learning about corruptness of some humanity). These are not people who want to fight. These are people who do what it takes to survive and protect humanity.I think I like the anime better, but it might be because the color and sound adds a lot to the horror that is a titan. The plot between the two versions are almost the same, except for vary minor changes.
Review by benuathanasia
27/08/2015
This volume focused on Eren and the uniqueness we discovered in the previous volume. This had more action and less character focus than the previous volume, but it wasn't lacking at all.