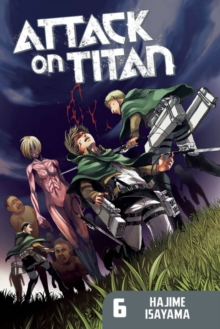 Attack on Titan 6
Paperback
Information
Format: Paperback
Pages: 208 pages, 1 Illustrations, unspecified
Publisher: Kodansha America, Inc
Publication Date: 19/08/2013
ISBN: 9781612622552
Free Home Delivery
on all orders
Pick up orders
from local bookshops
Reviews
Showing 1 - 2 of 2 reviews.
Review by Kassilem
16/06/2015
This volume consists of chapters 23-26. And it dumps us right back into the action of humans against titans. And this time the titan is intelligent, which is a scary thought. This series doesn't go for very long before throwing more twists into the story, which is something I like about it. It certainly keeps me reading when I should be doing other things, like sleeping. There's a lot of death in this volume, so beware. At this point it's starting to become crucial that readers have read previous volumes before this. But the volumes aren't long and the artwork is getting better than how it was in the first volume. I don't understand some of the proportions of some of the titans depicted but I have a suspicion that even that will be explained at some point. That's another thing. I like that we the readers are discovering the titans along with the characters, - it creates intensity and emotion. A highly recommend manga series with some gore/maturity warnings laid in there.
Review by TheDivineOomba
27/08/2015
This is a review for the first 14 volumes, because I read them all at once, in about three days. For the most part, each volume is like one chapter of this story, so it works.I really do like Attack on Titan - I started with watching the Anime, and finding out Season 2 won't come until 2016 - I realized I need more story, there is just too much odd stuff with this series, and totally heartbreakingly scary. Death is not sugarcoated. And people here die in horrible ways, usually by getting eaten by a Titan. The story is tight - the graphics are top-notch. Highly recommended if you are looking for something that is different, but grabs you, emotionally.The characters are well written, even the ones that are written as a comic relief (Sasha and her appetite for example). These are all emotionally developed characters, who grow from the begining of the series as fighting titans takes it toll (along with learning about corruptness of some humanity). These are not people who want to fight. These are people who do what it takes to survive and protect humanity.I think I like the anime better, but it might be because the color and sound adds a lot to the horror that is a titan. The plot between the two versions are almost the same, except for vary minor changes.