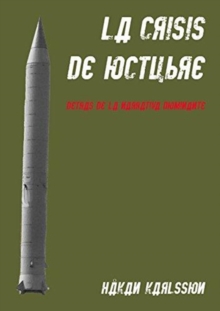 La crisis de octubre. Detras de la narrativa dominante : Trabajos arqueologicos y antropologicos en las antiguas bases de misiles nucleares sovieticos en Cuba
Paperback / softback
Description
This book offers a synthesis of the work conducted within the contemporary archaeology project "A world crisis from below" that studied the October Crisis (1962) for over ten years from its material remains in Cuba.
A cooperation project between professionals in Sweden and Cuba that focused on the remains of Soviet missile bases and how locals are using them today.
An approach from the community that challenges the dominant narratives with low profile voices that actually show how new ways of understanding the Cold War are possible.
SPANISH DESCRIPTION: Este libro presenta al lector una sintesis del trabajo realizado hasta ahora en el proyecto de arqueologia contemporanea Una Crisis mundial desde abajo que durante mas de una decada ha investigado la Crisis de Octubre (1962) y sus restos materiales e inmateriales en Cuba.
El proyecto es una cooperacion entre arqueologos suecos y arqueologos, historiadores y antropologos cubanos, y desde el inicio el proyecto se ha focalizado en el material que permanece en las antiguas bases de misiles nucleares sovieticos, la reutilizacion del material desde las bases en el campo y los pueblos que rodean los sitios, los recuerdos y narraciones que sostienen las personas y las comunidades locales sobre la crisis y las bases, y los planes para este patrimonio cultural de los museos locales.
Esto para permitir la expresion "voces de bajos perfiles" y los recuerdos y narraciones "de abajo" y contribuir con dimensiones mas humanas y complementarias a la crisis y a la "narrativa dominante" de la misma.
De esta manera, se pretende llegar a nuevas formas de conocimiento acerca de la Crisis de Octubre.
El proyecto muestra que es posible complementar y desafiar la narrativa dominante de la crisis con restos materiales e inmateriales de este campo de batalla de la Guerra Fria.
Information
Format: Paperback / softback
Pages: 160 pages
Publisher: Jas Arqueologia
Publication Date: 30/04/2018
Category: Archaeology
ISBN: 9788416725090
Free Home Delivery
on all orders
Pick up orders
from local bookshops