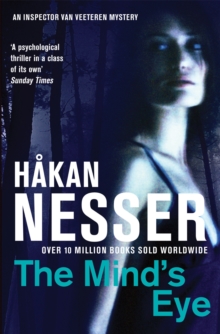 Description
Janek Mitter stumbles into his bathroom one morning after a night of heavy drinking, to find his beautiful young wife, Eva, floating dead in the bath.
She has been brutally murdered. Yet even during his trial Mitter cannot summon a single memory of attacking Eva, nor a clue as to who could have killed her if he had not.
Only once he has been convicted and locked away in an asylum for the criminally insane does he have a snatch of insight -- but is it too late?
Drawing a blank after exhaustive interviews, Chief Inspector Van Veeteren remains convinced that something, or someone, in the dead woman's life has caused these tragic events.
But the reasons for her speedy remarriage have died with her. And as he delves even deeper, Van Veeteren realizes that the past never stops haunting the present ...
Information
Format: Paperback
Pages: 256 pages
Publisher: Pan Macmillan
Publication Date: 01/04/2009
Category: Crime & mystery
ISBN: 9780330492782
Free Home Delivery
on all orders
Pick up orders
from local bookshops
Reviews
Showing 1 - 1 of 1 reviews.
Review by cathyskye
16/06/2015
First Line: He woke up and was unable to remember his name.Nineteen times out of twenty, Inspector Van Veeteren knows when he's looking the perpetrator of a crime in the eye. There are countless tiny "tells" that alert him to a person's innocence or his guilt. When teacher Janek Mitter is sent to prison for the murder of his wife, Eva Ringmar, it turns out that this case was number twenty. When Mitter's memory begins to return, he is murdered before he can reveal the identity of the actual killer. Van Veeteren has to set the record straight, clear Mitter's name, and send the right person to prison.Van Veeteren is a character I could get my teeth into and feel some empathy for, since endless overcast weather and darkness tend to depress both of us. Nesser's description brought him to life: "He sat with his bulky body crouched over the cassette recorder, looking like a threatening and malicious trough of low pressure. His face was criss-crossed by small blue veins, many of them burst, and his expression was reminiscent of a petrified bloodhound. The only thing that moved was the toothpick, which wandered slowly from one side of his mouth to the other. He could talk without moving his lips, read without moving his eyes, yawn without opening his mouth. He was much more of a mummy than a person made up of flesh and blood."The plot moves quickly as he tries to find the killer. Although I did find the identity of the murderer to be a bit of a letdown and the ending a little rushed, the bare bones of an excellent mystery series were there to be seen, and I look forward to reading more of Inspector Van Veeteren's adventures.
Also in the The Van Veeteren Series series | View all