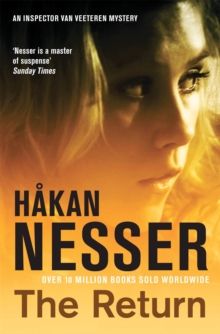 Description
Van Veeteren thought back to what his friend Mahler had said the previous evening: Doing something at the right time is more important than what you actually do ...An unmissable hospital appointment is looming for Inspector Van Veeteren when a corpse is found rolled in a rotting carpet by a young child playing in a local beauty spot.
Missing head and limbs, the torso is too badly decomposed for forensic identification - bar one crucial detail ...Circumstantial evidence soon points to a local man, a double murderer who disappeared 9 months before, shortly after being released on parole; a local hero turned monster after being convicted of killing two women over a span of three decades.
Recuperating after an operation, Van Veeteren is nevertheless directing investigations from his hospital bed, for he is convinced that only the innocence of this new victim can be the motive for his murder.
But the two women have been dead for long enough for any evidence to have died with them ...And is he a little like Inspector Morse can be on occasion simply on the wrong track completely?
Information
Format: Paperback
Pages: 321 pages
Publisher: Pan Macmillan
Publication Date: 28/06/2008
Category: Crime & mystery
ISBN: 9780330492775
Free Home Delivery
on all orders
Pick up orders
from local bookshops
Reviews
Showing 1 - 5 of 5 reviews.
Review by annbury
16/06/2015
Inspector Van Veeteren is in the hospital after surgery, but that doesn't damp his investigative drive. A mutilated body has been found, which turns out to be that of Leopold Verhaven, a former track star who spent many years in prison for the murder of two women. He always denied the crimes, and was killed almost as soon as he got back home -- hence, the return. The novel switches back and forth in time and in perspective, but watching the way it all falls together by the end is a real pleasure.
Review by jimrbrown
16/06/2015
This is the third Van Veeteren book I have read and they just get better and better. I intend buying the other two that have been translated The Minds Eye and the Inspector and Silence. Here's hoping more of his books are translated to English.
Review by patrickgarson
16/06/2015
At one point in The Return, one of Nesser's harried, every-man cops says something to the effect that the case they're working is like something from television. It's humorous in context because the pedestrian reality of constructing their case is so far removed from your average Law and Order episode. Unfortunately, it's a self-fulfilling prophecy and the book fritters away its charms with a pretty stupid ending.Inspector Van Veeteren's team are charged with finding the identity of a headless, handless body. It seems to be linked with a twice-convicted murderer, but the threads are finer than spidersilk and it will take the intuition of Van Veteeren - recovering in hospital from stomach surgery - to weave them together. The best parts of The Return is when the focus is on police work. Nesser takes the romance out of both CSI-style technology fetish crime novels, and the more common flawed-detective style. His cops are hard-working, funny, sad and very human. The focus on team dynamics was really nice and worked very well. The struggle to make a case from the slimmest of leads is rendered in perfect, frustrating detail.Unfortunately, this proves to be part of the novel's undoing, as the leads are so very slim, the resolution feels both rushed, forced, and entirely improbable. It's almost as if - having found a Macguffin with which to set the team moving - Nesser was at a complete loss when the time came to actually *do* something with the narrative.The answer of what to do is so stupid it overwhelms the stronger parts of the book and throws the weaker elements into stark relief. Nesser is unable or unwilling to have a single three dimensional female in the entire book - indeed there are only three women with speaking roles altogether. His handling of drama or tension - or anything outside the narrow confines of the local police station - is extremely labored and unconvincing. Finally his idea of crime, its motives and execution is just shallow and blah. The more modulated and three-dimensional elements of the police team are entirely underwhelmed and the whole thing collapses like a bad souffle. The Return certainly had some strong points, but ironically I'm going to be wary about going back to Nesser in the future.
Review by isabelx
16/06/2015
I was expecting this detective story by a Swedish author to be set in Sweden but I soon realised that it wasn't, as the names of the characters, places and newspapers didn't sound right; they seemed to be a mixture of Dutch and German, with a few Eastern European. In fact there were no country-specific references at all, and on looking the author up on Wikipedia, I found that this series is set vaguely in Northern Europe but that the country is never named. I found this really rather irritating, which is a pity because the murder-mystery itself was very interesting.
Review by VictorTrevor
16/06/2015
A well paced and constructed story which keeps you guessing until the end. Van Veeteren is forced to conduct his investigations into the murder of a double murderer while recuperating from an operation. His colleagues help out until they are pulled off the case and Van Veeteren is left on his own to make difficult decisions as to how to resolve the case.
Also in the The Van Veeteren Series series | View all