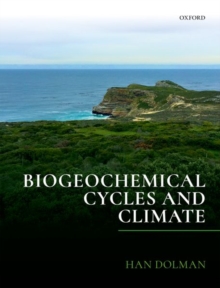 Biogeochemical Cycles and Climate
Hardback
Description
Changing concentrations of greenhouse gasses are key to our changing climate. Biogochemical Cycles and Climate examines the interaction of the main biogeochemical cycles of the earth with the physics of climate from the perspective of the earth as an integrated system. Biogeochemical cycles play a fundamental role in the Earth's system - they describe the movement of matter and transfer of energy around the planet.
This text aims to answer some fundamental questions.
How have the cycles of key nutrients, such as carbon, nitrogen, phosphorous, and water changed, both in the geological past and more recently through the impact of humans on the Earth System?
How do these cycles interact with each other and affect the physical properties of climate?
How can weuse this knowledge to mitigate some of the impacts of changing biogeochemistry on climate, and the Earth's habitability and resilience?Understanding the complex interactions of biogeochemistry with the Earth's climate is crucial for understanding past and current changes in climate and above all, for the future sustainable management of our planet.
Information
Format: Hardback
Pages: 272 pages, 130 illustrations
Publisher: Oxford University Press
Publication Date: 10/05/2019
Category: Hydrology & the hydrosphere
ISBN: 9780198779308