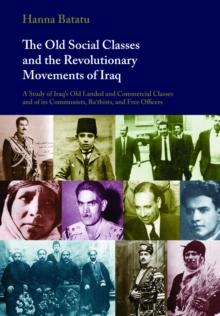 The Old Social Classes and the Revolutionary Movements of Iraq : A Study of Iraq's Old Landed and Commercial Classes and of Its Communists, Ba'thists and Free Officers
Paperback / softback
Description
The late Hanna Batatu's landmark study of Iraq's social formation during the twentieth century is widely regarded as one of the most significant works of recent times dealing with Middle Eastern society and politics.
Actually three volumes in one, it is one of the few books to have received the distinction of having an entire conference held to discuss its implications, at the University of Texas at Austin in March 1989.
Now back in print, this classic work has assumed a new significance in light of Iraq's recent history.
Information
Format: Paperback / softback
Pages: 1283 pages, 41 ill. 7 mps.
Publisher: Saqi Books
Publication Date: 17/05/2004
Category: Revolutions, uprisings, rebellions
ISBN: 9780863565205
Also by Hanna Batatu