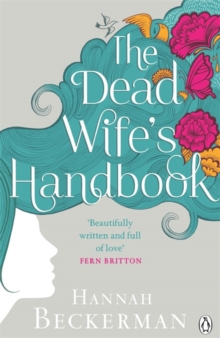 The Dead Wife's Handbook
Paperback
Description
The Dead Wife's Handbook is the stunning emotional debut from author Hannah Beckerman.'Today is my death anniversary.
A year ago today I was still alive.'Rachel, Max and their daughter Ellie had the perfect life - until the night Rachel's heart stopped beating.Now Max and Ellie are doing their best to adapt to life without Rachel, and just as her family can't forget her, Rachel can't quite let go of them either.
Caught in a place between worlds, Rachel watches helplessly as she begins to fade from their lives. And when Max is persuaded by family and friends to start dating again, Rachel starts to understand that dying was just the beginning of her problems.As Rachel grieves for the life she's lost and the life she'll never lead, she learns that sometimes the thing that breaks your heart might be the very thing you hope for.Hannah Beckerman gives an unforgettable exploration of love and loss in her first novel, The Dead Wife's Handbook.
Praise for The Dead Wife's Handbook:'Beautifully written and full of love' Fern Britton'A moving and intriguing debut novel' Fabulous Magazine'A lovely, sad and heart-breaking story that hits you on subtle levels provoking big reactions, deep thoughts and emotions.
A fantastic debut novel' Lainey, alwaysreading.net'It has the potential to change your life' Erin, Erin's Choice'The Dead Wife's Handbook is filled with emotion, raw and real, which will no doubt be the tear-jerker of the year' Kevin, I Heart ChickLit'So many times I have heard people talk about how a book has changed their life and just thought "that's ridiculous" but now I truly understand that saying' Victoria, Victoria Loves Books'A real celebration of love, life and the human spirit' Hadenmaiden, Goodreads'One of the most beautiful portrayals of grief I will probably ever read' Leah, ChickLit Reviews and NewsHannah Beckerman is a former TV and film producer living in London.
The Dead Wife's Handbook is her first novel.
Information
Format: Paperback
Pages: 496 pages
Publisher: Penguin Books Ltd
Publication Date: 13/02/2014
ISBN: 9780718178147
Free Home Delivery
on all orders
Pick up orders
from local bookshops
Reviews
Showing 1 - 2 of 2 reviews.
Review by Karen-uk
16/06/2015
We are told from the very first page that Rachel has died unexpectedly, after a celebratory evening out with her husband Max, and is now completely alone, somewhere in the afterworld. Every so often she is briefly granted access to view moments with Max and/or Ellie and we experience with her, her grief and anger that she is no longer with them to offer reassurance and comfort.This afterworld is not a happy place where families are reunited in death, but is bleak and lonely for Rachel and her time spent watching her loved ones are times of both happiness and agony as she sees them grieving and feels helpless in being unable to make them aware of her presence. We see her frustration and jealousy as Max starts to date again and her worries that she will be forgotten and that her memory will be slowly erased from their lives.This is a very compelling and beautifully written account of Rachel's transition through the grieving process and watching others live the life that she will never have. Unusually, we see the aftermath of a death through the eyes of the deceased and it presents a powerful image. Having been through the grieving process myself I could identify with Rachel's feelings of loss. The writing was perceptive and warm with some amusing moments, especially with Max's first attempts at dating!Despite being an incredibly poignant and sad story, this is not a morbid book by any means. The characters are a joy to spend time with, especially 6 year old Ellie, and Max's devotion to her was lovely to see. The book isn't all about Rachel and certainly the main characters in Rachel's life are rounded and believable. I really felt for Max when well meaning friends and family tried to persuade him to "move on". At the end of each stage of the grieving process, Rachel learns something about herself and it is this journey of realisation that adds an extra element to the story.I found this an emotional and yet uplifting read and I became completely engrossed in the lives, and death, of Rachel and her family. This is an excellent debut novel which I would have no hesitation in recommending. Just one tip – make sure you have some tissues handy!My thanks to Real Readers for this copy in exchange for an honest review
Review by AdonisGuilfoyle
16/06/2015
I was intrigued by the concept of this novel, which I thought might be like <i>Ghost</i> with a <i>Lovely Bones</i> style narrative, and in that sense, Hannah Beckerman didn't disappoint. (The cover is also very pretty, and I am shallow enough to judge a book so superficially!) Rachel, a young wife and mother who drops dead of a heart attack at the relatively young age of 36, is able to 'visit' the family she was cruelly parted from, and observe how they grieve, remember and ultimately move on from her death. She can't interact or communicate with her widowed husband or confused young daughter, however, so all Rachel can do is tell the reader how angry and frustrated she is: <i>'It turns out that the only thing more unexpected than dying prematurely is the unpredictability of the life you leave behind.'</i>All perfectly understandable, and I actually quite liked how refreshingly selfish and clinging Rachel is in the early stages of grief (the book follows the Kubler-Ross model of denial, anger, bargaining, depression and acceptance).But. Oh, but. I had two niggling issues with the characters and the author's own clunking life philosophy that took so much away from Rachel's story for me. One - how pretentiously middle-class and self-analysing everyone is, from the eight year old child who sits down to enjoy a meal of 'gnocchi with a mushroom, lemon, onion, garlic and cream sauce, drizzled with truffle oil and served with Parmesan shavings' (her words) and calls her puppy 'Athena', to the really nauseating impromptu therapy sessions that fill up every other chapter. And two - what must be the author's own experience but isn't necessarily a universal constant, that every woman is incomplete without a having a baby, and that children constitute a family. Even the one female character who states that she has never wanted children - a 'career woman' naturally - eventually caves and decides to go in for last-ditch IVF treatment (the middle class solution). And the poor woman who can't have children is pitied for having 'a secret that would bring any woman unimaginable pain'. No. Do you know what brought me unimaginable pain? Reading over and over again how woman equals mother, and how those who can't or won't bestow 'adorable' little darlings on the world are somehow deceiving themselves and doing their family/society at large a disservice. What makes this gushing paean to procreation all the more disturbing is that motherhood is promoted more as leaving a 'legacy to the world' than having a baby to love. Creepy.If angsty chick lit with Mr Right, Adorable Children, Dysfunctional Friends and Supportive Family is your bag, then Beckerman's novel is fair wringing with emotion and surprisingly quick to read. I never even sniffled, but then the characters put me off so much.