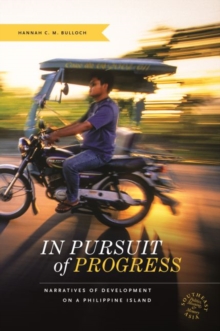 In Pursuit of Progress : Narratives of Development on a Philippine Island
Paperback / softback
Description
How are meta-narratives of development entangled in people's identities and life trajectories?
How do they inhabit people's histories, their understandings of their place in the world, and their dreams for the future?
The idea of development has been deconstructed and scrutinized as a "Western" metaphor ordering global difference and as a banner under which diverse schemes for societal improvement find legitimacy and common purpose.
But how is development assimilated into the worldviews of development's subjects?
How does it reshape identities and in what ways is it reshaped in the process?Drawing on a decade of ethnographic research on the Philippine island of Siquijor, In Pursuit of Progress explores myths, meanings, and practices of development and its counterparts, progress and modernization.
It does so not only by considering development as planned, community-wide interventions aimed at society-wide improvements in living standards, but by recognizing that, as a cognitive tool for organizing relationships between people, development is personal.
For Siquijodnon, development, or kalamboan, is also a process of self-transformation concerning changes in knowledge, body, roles, and cultural orientation.
Emblems as diverse as skin color, Christianity, infant formula, and infrastructure make statements about development on Siquijor.
Kalamboan is bound up with social mobility, consumption, and status, but so too is it imbued with ideals of the "simple life," a life of austerity and attention to social relationships, and with other assumptions about how people should live. Author Hannah Bulloch analyzes development not only as a prescription for material aspiration but also for moral endeavor.
In Pursuit of Progress, offers rich, ethnographic insights into contemporary Visayan culture, engaging with questions of enduring significance in Philippines studies, including livelihood change, "colonial mentality," everyday politics, and moral economy.
It will contribute to debates in anthropology, sociology, and development studies regarding the ways in which discourses of development act upon local and global power relations.
Information
Format: Paperback / softback
Pages: 260 pages, 12 black & white illustrations, 1 map
Publisher: University of Hawai'i Press
Publication Date: 30/01/2018
Category: Development studies
ISBN: 9780824858872
Free Home Delivery
on all orders
Pick up orders
from local bookshops
Also by Hannah C. M. Bulloch