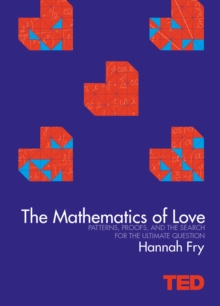 The Mathematics of Love
Hardback
Part of the TED series
Description
Part of the TED series: The Mathematics of LoveThere is no topic that attracts more attention-more energy and time and devotion- than love.
Love, like most things in life, is full of patterns. And mathematics is ultimately the study of patterns.
In her book The Mathematics of Love - and TEDxTalk of the same name -Dr. Hannah Fry takes the audience on a fascinating journey through the patterns that define our love lives, tackling some of the most common yet complex questions pertaining to love: What's the chance of us finding love?
What's the chance that it will last? How does online dating work, exactly? When should you settle down? How can you avoid divorce? When is it right to compromise? Can game theory help us decide whether or not to call?
From evaluating the best strategies for online dating to defining the nebulous concept of beauty, Dr. Fry proves-with great insight, wit and fun- that maths is a surprisingly useful tool to negotiate the complicated, often baffling, sometimes infuriating, always interesting, patterns of love.
Information
Format: Hardback
Pages: 128 pages
Publisher: Simon & Schuster Ltd
Publication Date: 12/02/2015
ISBN: 9781471141805
Other Formats
eAudiobook MP3 from £8.39
EPUB from £2.99
Free Home Delivery
on all orders
Pick up orders
from local bookshops
Reviews
Showing 1 - 1 of 1 reviews.
Review by Opinionated
27/08/2015
Hannah Fry demonstrates that equations and algorythms can also be applied to the rhythm of life and love. This is a great little introduction to some beautiful bits of mathematics - and you can decide for yourself how seriously you should apply them on a day to day basis but as Fry herself says "All models are wrong, but some are useful"Fry tells you how to predict the number of people that are available for you to date - either more or less than you probably thought depending on how picky you are, the importance of beauty (its all about relative beauty apparently) , the importance of being the approacher rather than approachee (you have far more chance of landing your best option that way), how online dating works (you'll be surprised), why fidelity is the best option, how sexual connection networks evolve (yes, we're all part of a few of these - how fascinating it would be to follow the threads that connect everyone you've ever slept with), Optimal Stopping Theory (how to take the best chance of landing your best bet), and - on a slightly disconnected note - how to use mathematics to optimise the wedding.Great fun, some elegant maths, and a few things to think about. Wish I'd known about Optimal Stopping Theory..
Also by HANNAH FRY