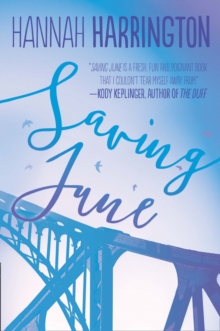 Description
`With a powerful story, characters that truly come alive, and a romance worth swooning over, Saving June is a fresh, fun, and poignant book that I couldn't tear myself away from.' -- Kody Keplinger, author of The DUFFIf she'd waited less than two weeks, she'd have been June who died in June.
But I guess my sister didn't consider that. When sixteen-year-old Harper's sister June, the perfect, popular, pretty one to Harper's also-ran, commits suicide just before her high school graduation, nothing in Harper's world makes sense anymore.With her family falling apart, Harper has a plan - steal June's ashes and take her sister to the one place she always wanted to go: California.
Embarking on a wild road trip of impromptu gigs and stolen kisses with mysterious musician Jake, the one person who could hold answers about June, Harper's determined to find peace for her sister.
But will she find peace for herself along the way?Praise for Hannah Harrington`fresh, fun and poignant' - Kody Keplinger`tender, funny and moving' - Courtney Summers`raw, powerful, and absolutely spot-on' - YA Reads.com
Information
Format: Paperback
Pages: 336 pages
Publisher: HarperCollins Publishers
Publication Date: 01/06/2012
Category: Romance
ISBN: 9781848450950
Free Home Delivery
on all orders
Pick up orders
from local bookshops
Reviews
Showing 1 - 1 of 1 reviews.
Review by shayanasha
16/06/2015
Saving June was one of those books that I was sure I would love. I know what it feels like to be a less than stellar younger sister to a stellar elder sister and thus I should have felt a personal connection with the characters and their situations. I did not.<br/><br/>Saving June is a good book – it takes a very significant issue of identity crisis among teenagers and shows the journey of a girl who is trying hard to step out of her elder sister's shadow. The story is beautiful in that regard. But I feel Hannah Harrington did not give enough depth to her characters. She failed to properly use the idea of 'show, don't tell' and what we got were characters we knew about but never got to know. I would have loved to read more about Jake's music obsession – I don't think enough space was given to the book about it (and yes, though I was mentioned twice in every page I didn't really feel the passion). I also wanted Laney to be a more significant character than a tagalong in Harper and Jake's romance.<br/><br/>I did not like the ending. It was far too predictable. I did not like how the issues of Aunt Helen and Harper's parents were tackled. I wanted more from this book, I expected more from this book and it just left me… bereft.<br/><br/>But I really, really, really liked the way the relationship between June and Harper was shown. And also the way the issue of teenage depression and suicide was shown – the simplicity of June's inner chaos and the complicated way Harper thought – it seemed like a real problem with very real consequences.<br/><br/>Saving June is not a bad book. It is good. It is one of those books that I was excited while diving into because it sounded EXACTLY like the kind of book I would love and now that I am done with it I can't really point out what didn't work for me, except that something didn't. <br/><br/><i>I got this book from Harlequinn UK via NetGalley in exchange of an honest review.<br/>