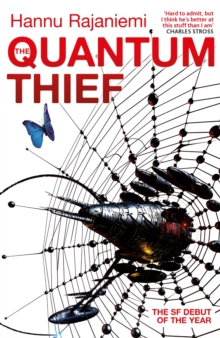 The Quantum Thief
Paperback
Description
The Quantum Thief is a dazzling hard SF novel set in the solar system of the far future - a heist novel peopled by bizarre post-humans but powered by very human motives of betrayal, revenge and jealousy.
It is a stunning debut.Jean le Flambeur is a post-human criminal, mind burglar, confidence artist and trickster.
His origins are shrouded in mystery, but his exploits are known throughout the Heterarchy - from breaking into the vast Zeusbrains of the Inner System to steal their thoughts, to stealing rare Earth antiques from the aristocrats of the Moving Cities of Mars.
Except that Jean made one mistake. Now he is condemned to play endless variations of a game-theoretic riddle in the vast virtual jail of the Axelrod Archons - the Dilemma Prison - against countless copies of himself.
Jean's routine of death, defection and cooperation is upset by the arrival of Mieli and her spidership, Perhonen.
She offers him a chance to win back his freedom and the powers of his old self - in exchange for finishing the one heist he never quite managed . . .
Information
Format: Paperback
Pages: 336 pages
Publisher: Orion Publishing Co
Publication Date: 01/11/2011
Category: Science fiction
ISBN: 9780575088894
Free Home Delivery
on all orders
Pick up orders
from local bookshops
Reviews
Showing 1 - 4 of 4 reviews.
Review by AlanPoulter
16/06/2015
This novel starts off at a feverish pace and never lets up. There are two main threads. One centres on Jean le Flambeur, a thief, who, at the start of the novel is incarcerated in a 'Dilemma Prison', an instantiation of the mathematical model of the Prisoners Dilemma', in which separated criminals must guess what the other is going to do, to try to get the best outcome for themselves. Jean is not doing well at this game but he is sprung from the prison by by Mieli, a warrior, and her sentient ship, Perhonen. She takes him to Mars and the Oubliette, a moving city that he used to live in. In return for his freedom he must recover a set of memories he secretly stashed there before being arrested as they are of interest to Mieli's employer, the Pelligrini.In the Oubliette, Isidore Beautrelet, an architecture student, is building a reputation as a dectective. A chocolatier is murdered and Isidore unpicks what appears to be a straightforward case into something more complex and sinister. 'The Gentleman', a kind of policemen, introduces Isidore to the 'millenniaire' Christian Unruh, who has had an unpleasant experience while reading in his private library. Time spent alive is currency and even though he is time-rich, Christian must return to the Slow (a kind of community service). He is holding a party to mark this transition and he is upset that someone called 'Jean le Flambeur' has left a note in his library to say that he would be attending this party...The above is just the bare bones of the plot. Also left out are explanations (or sometimes just guesses about) the blizzard of characters, cliques, places, devices and technologies that this novel mints names for and relentlessly throws at the reader. I tried hard to pay attention and keep up but had to 'go with the flow' in parts. I hope the next novel is slower paced and makes more use of the usually evil practice of 'info-dumping'. For all its obscurities and frenetic plot, as a first novel this is a cracking start.
Review by reading_fox
16/06/2015
This is not a novel that will please everyone. I found it fun, although possibly tries to be a bit too clever, and I'm not sure the conclusion is quite supported by the preceding work. But I did enjoy it nethertheless. There has been a few charismatic thief based fantasy novels in the last year or two, but this is the first I've come across in an SF setting. As with many SF novels the backstory isn't explained and you're left to try an piece it together from the fragments referred to too infrequently. The basics seem to be that a paradigm sift happened on Earth allowing conciousness uploading to a major new technologies, but only some people had control over it, and there were divisions in the ranks. The story starts with our hero -one Jean Flambeau incarerated in a distant prision playing Prisoner's Dilemma for real over and over again. Then, just as he's about to lose for the last time he is rescued by someone who needs his specific thief skills for a quest that is never specified. First he has to regain his thieving skills by finding where he hid them. Or maybe where a copy of him might have hidden them - digitial personalities being what they are. This is likely to have been on Mars where there is a privacy obscessed society that mediates every personal interaction through a nanotech AI, allowing you to forget you've ever seen someone if both parties agree, or just prevent yourself from being seen to start with. Here we meet the other key character one Isodore, a member of this society and also somewhat of a detective, investigating anomolies in the exomemory. The game is afoot.The focus switches between three main characters- Jean, Meili his rescuer and isodore. However only Jean is a first person voice, both Isodore and Meili take thrid person, which makes the switches very obvious to identify, if occasionally a little bit stilted. On hte whole I prefered this technique over other multiple POV novels which generally irritate me with unclear character jumps. Much of the plot remains deliberately opaque with quantum level re-writing ofthe past histories and memories possible, and then merged into multiple copies of a character. The Author does a very good job of keeping this clear! and you always know which characters are involved. The world building is very clever, and well used - a lot of thorugh has gone into te details of what has happened in the past and how that's effected what is experienced - even if the actual science is left unexplained. But you have to pay attaention and have some degree of understanding about cryptology and standard SF tropes at the very least.I'm very interested to see where the sequel takes us.
Review by Romis78
16/06/2015
Maybe I'm too technophobic, but I found this quite confusing. It took quite a while to get in to the characters and even longer to sort them out, and the action was meager. On the plus side, it was interesting enough that I read it quite quickly, so there must be something there.
Review by cygnoir
16/06/2015
My first attempt at reading <em>The Quantum Thief</em> was during my last year of grad school. I barely made it through the first few chapters because it required more deciphering than I had energy for at that time. I vowed to pick it up again once I had my brainmeats back, and was not disappointed.Perhaps my favourite part of the experience of reading this book was the lack of exposition used to get me emotionally invested. That said, I was constantly aware I was reading as I was reading. This isn't entirely a bad thing, but readers who prefer straight-up escapism and losing themselves for hours in a setting they can seamlessly slip into -- this isn't that story. There is work to be done here, and I think the payoff is worth it.I am definitely looking forward to the rest of this trilogy, and would recommend it to anyone enjoying a bit of a jaunty heist with their hard SF.