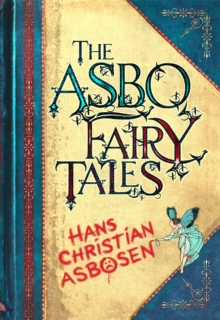 The ASBO Fairy Tales
Hardback
Description
Sit back, relax and allow Hans Christian Asbosen to tell you fantastical stories of far-away lands.
Once upon a time there were. . . Hansel and Britney and their trail of Wotsits, Jack and the Weedstalk, Snow White and the Seven Dads and Bling-erella.
Not quite as traditional as first glance might suggest, these hilarious reworkings of traditional classics are a wonderfully acerbic look at today's society.
The Asbo Fairy Tales are fantastically packaged to resemble a traditional book of fairy stories, with great comic illustrations of the unique characters.
There's Little Red Riding Hoodie, the Crack Piper of Camden, mistakenly enlisted to rid London of its rats, and Sleep-In Beauty, who is cursed with an addiction to fairydust.
Information
Format: Hardback
Pages: 192 pages
Publisher: Michael O'Mara Books Ltd
Publication Date: 01/09/2008
Category: Parodies & spoofs
ISBN: 9781843172932
Free Home Delivery
on all orders
Pick up orders
from local bookshops
Reviews
Showing 1 - 3 of 3 reviews.
Review by TPauSilver
16/06/2015
The ASBO fairytales take common fairytales and twist them by replacing the familiar characters with modern stereotypes, mainly working class stereotypes. For example, Puss in Boots injures himself and make fraudulent compensation claims, instead of sleeping sleeping beauty is addicted to drink and drugs so can never get up in the morning and Jack climbes a giant weed plant to steal a hen that lays tobacco. Some of the fun little twists they put in are cute, and it's interested to see how they work when you replace on set of overblown stereotypes with another, but the problem I had with this book was I didn't find any of it laugh out loud funny. Maybe it's just lost on me. Not a bad read but don't expect to be rolling in the aisles.
Review by BBGirl55
16/06/2015
Like my last this made me smile Fairytales given a modren twist, Heroes clad in burrberry and trackies, Frog princes that mutter the words 'init', Rapunz-L a platinum selling record artist with supper long golden hair extentions, Sleeping-Beuaty a party girl addicted to fairy dust that can't wake up before 12 noon and Seven dwarfs as posible fathers of Snow Whites baby!I like this alot this is defently tales for the adults, made me Laugh and smile. THis is a must read if you like working class humur defently a book for the doll line!
Review by welshy72
16/06/2015
I don't think there's much to review with this book, the title says it all I think.It's a collection of fairy tales told in modern language using modern situations. The stories include Snow White and the Seven Dads, The Three Little Pigs and the Big Bad Bailiff, Little Red Riding Hoodie, The Princess and the Oven Chip, Blingerella and Mouldy Locks and the Three Bears.This book was quite funny to begin with, using situations such as The Jeremy Kyle Show in a story or two. In the end the book just got a bit repetitive, the female characters being 'blinged up' precocious princess's and the male characters being 'bad boy' drugged up chavs.It's ok if you don't take it serious but to be honest with a title like The Asbo Fairy Tales, how can you take this serious, A quick and light hearted read.