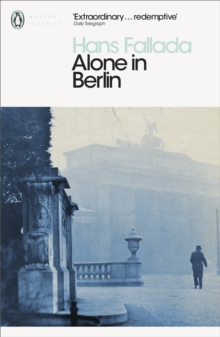 Alone in Berlin (Slipcase Edition)
Paperback
Description
Inspired by a true story, Hans Fallada's Alone in Berlin is the gripping tale of an ordinary man's determination to defy the tyranny of Nazi rule.
This Penguin Classics edition contains an afterword by Geoff Wilkes, as well as facsimiles of the original Gestapo file which inspired the novel.Berlin, 1940, and the city is filled with fear.
At the house on 55 Jablonski Strasse, its various occupants try to live under Nazi rule in their different ways: the bullying Hitler loyalists the Persickes, the retired judge Fromm and the unassuming couple Otto and Anna Quangel.
Then the Quangels receive the news that their beloved son has been killed fighting in France.
Shocked out of their quiet existence, they begin a silent campaign of defiance, and a deadly game of cat and mouse develops between the Quangels and the ambitious Gestapo inspector Escherich.
When petty criminals Kluge and Borkhausen also become involved, deception, betrayal and murder ensue, tightening the noose around the Quangels' necks ...If you enjoyed Alone in Berlin, you might like John Steinbeck's The Moon is Down, also available in Penguin Modern Classics.'One of the most extraordinary and compelling novels written about World War II.
Ever' Alan Furst'Terrific ... a fast-moving, important and astutely deadpan thriller' Irish Times'An unrivalled and vivid portrait of life in wartime Berlin' Philip Kerr'To read Fallada's testament to the darkest years of the 20th century is to be accompanied by a wise, somber ghost who grips your shoulder and whispers into your ear: "This is how it was.
This is what happened"' The New York Times
Information
Format: Paperback
Pages: 608 pages
Publisher: Penguin Books Ltd
Publication Date: 28/01/2010
Category: Classic fiction (pre c 1945)
ISBN: 9780141189383
Free Home Delivery
on all orders
Pick up orders
from local bookshops
Reviews
Showing 1 - 5 of 11 reviews.
Previous | Next
Review by hectorius123
16/06/2015
We have all been aghast when we have read of the great tyrannical 'boot stamping on a human face' regimes of history. Or even in the present day- think North Korea, Burma. But as moving as historical accounts are, they nearly always look for the broad sweep . It is rare that they really capture the fear that individuals live in who are unfortunate to live in the wrong place and wrong time.Occasionally maudlin, sometimes rambling, Alone In Berlin does achieve this by focussing on a couple who carry on their own act of defiance against the Nazi regime by writing and placing in public places postcards which attack the Party. In pursuing this ultimately futile act of resistance they condemn themselves to eventual torture and death once they are inevitably caught. The reader experiences just how dangerous the smallest acts of defiance are and how overwhelming the State is. Also revealed is just how individuals can become brutal savages, uncaring of other people, in the name of the ruling Party.There is a Kafkaesque feel to the way Fallada ( or at least to the way Hoffmann translates in this excellent new edition) describes the interaction between some of his secondary players; low lifes, petty criminals and junior Party members, recently jumped-up on the back of the Party. This style adds to the feeling of uncaring brutalism that was Nazi Berlin.Some parts of this novel reads like a thriller, although the inevitability of the protaganists being caught soon leads to a feeling of desperation on the part of the reader ansd ultimately to question oneself as to whether one would oneself have the courage to maintain decency and even to act in a similar way to the Quangels for no obvious immediate gain.Perhaps the book is a little too long -the prison scenes maybe could have been shorter.A flawed classic then but one which, like much great literature, helps us to understand what it really could be like and also to examine ourselves
Review by pokarekareana
16/06/2015
After their son falls in the war, Otto and Anna Quangel begin their own tiny act of resistance. Over the course of years, they leave hundreds of anonymous handwritten postcards in public places all over Berlin. Unbeknownst to them, most of the cards fall into the hands of the Gestapo almost immediately, and one policeman is consumed by the need to discover who is behind the cards.This book was delicious in places, and unbearable in others. Slow to get off the ground, I staggered through the first half, but the second half was excellent and the ending was breathtaking. The characters were mostly unpleasant, but I found myself intrigued by their fate. The writing itself was lyrical, but I found it hard to love this book because I came so close to giving up on it early on. I'd recommend it, but be prepared to persevere with it to get to the good stuff towards the end.
Review by john257hopper
16/06/2015
This is a brilliant thriller and a truly great work of literature.  The atmosphere of fear and the casual brutality between characters is brilliantly evoked by the simple, non-flowery language the author uses. It is rare for a novel set in the Second World War to be set in Berlin before the final fall and the sheer courage of opposing Nazism at its height in 1940 comes across clearly through the very ordinary Quangels' carrying out of the ostensibly small act of resistance of leaving postcards for people to find. This is based on a true if not very well known case (the Hampels), and also reminds one of the better known White Rose students, executed for handing out anti-Nazi leaflets. The Quangels fail but their failure comes across as an act of redemption - they succeed in a sense through maintaining their sense of dignity and self-respect in the face of tyranny and insanity. In doing do, they draw strength from small, occasional acts of kindness from individual guards, doctors or chaplains to draw some hope. Powerful stuff. This should be much better known.
Review by ljbwell
16/06/2015
Loosely based on actual events, Alone in Berlin centers around the ultimately futile resistance efforts in WWII Berlin of husband and wife Otto and Anna Quangel. When their only son is killed in action, and after a few other events at work and in their apartment building, something in Otto snaps and he can no longer stay quiet. He decides to leave anonymous postcards decrying Hitler and his regime randomly (time and place) throughout Berlin. His wife helps him with the postcards. There are related threads involving family, friends, co-workers, neighbors and how their lives are affected by the war, the Nazi regime, and even the Quangels' attempted resistance.The power of this novel is in its portrayal of the absolute fear and paranoia instilled in people during the war. Neighbor quickly turns against neighbor if it means staying - however briefly - in the good graces of the police, SS, or whichever authority they see fit. The constant overhanging threat of being turned in or discovered looms large. The book builds up not only the tension of Gestapo inspector Escherich's homing in on the 'Hobgoblin', but of neighbor vs neighbor or even family turning against family, of the results of the slightest - even chance - malfeasance, of psychological and physical terror instilled in everyday people. Given these dangers, therefore, even the most minor shows of resistance take on so much more power. It shows that there were those who made the dangerous decision to fight the very real threats of beatings, torture, imprisonment, death, and/or being sent to camps. They were willing to accept these (likely) consequences in order to be able to live with themselves, to create some semblance of justice and good in the face of the fear-riddled, unjust world they were living in. This edition includes an afterword not only about Fallada and the context in which he wrote the novel, but also some of the key differences between the true story and this fictionalized version. There is also a section with copies of some of the actual documents from the case against Otto and Elise Hampel which bring the story even more to life.
Review by polarbear123
16/06/2015
An excellent novel. Truly gripping and with a tightly woven plot that sees the characters descending inevitable, gradually towards their fate in Nazi Germany. How much were the German people to blame for the Holocaust? Well this novel helps to show how difficult dissent or any form of protest was. It is interesting to see how the different social groups are represented and how they have reacted and changed in the Nazi regime. I kept thinking to myself while I was reading this which out of the people I know would collaborate or resist if a similar situation occurred now. One of the best books I have ever read about the nature of morality.