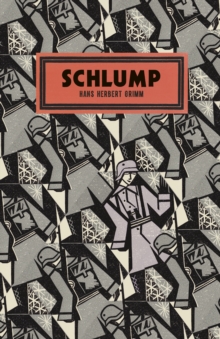 Description
A GERMAN CLASSIC FROM A FORGOTTEN AUTHORSchlump is seventeen, a romantic, a chancer and a dreamer.
It's 1915 so naturally he volunteers for war. In France he is assigned an administrative position in a small town and has a marvellous time.
But when he gets to the trenches, where death and mindless destruction are the everyday, he starts to understand something about war.
Funny, brutal and charming, here's the First World War from the perspective of the inimitable Schlump.
Information
Format: Paperback
Pages: 288 pages
Publisher: Vintage Publishing
Publication Date: 07/05/2015
Category: Classic fiction (pre c 1945)
ISBN: 9780099595786
Free Home Delivery
on all orders
Pick up orders
from local bookshops
Reviews
Showing 1 - 1 of 1 reviews.
Review by atticusfinch1048
27/08/2015
Schlump – A Book that will always BurnSchlump when published back in 1928 had to compete with another book which would steal away the limelight that should have been shone on to this book. All Quiet on the Western Front which was published at the same time went from strength to strength and Schlump was slowly forgotten. Well not completely forgotten the Nazis had not forgotten this anti-war book and promptly burnt it in 1933.When Hans Herbert Grimm wrote Schlump it was published anonymously and this was his first and last ever novel. What he did leave us after his death in 1950 is a book that is ultimately a thoroughly unconventional novel on the First World War that mixes the best of fiction writing with part documentary of those times in Germany and at the front. What Grimm leaves us is a book that is completely non-nationalistic, astute, and accurate about the leadership and quite Francophile, everything the Nazis would dislike about the book.What I enjoy about this book is that Grimm is encouraging the reader to underestimate the novel and that is partly down to the way he has written the book. Schlump stands out against other war novels both pro and anti that were written at the same time in that at times it comes across of somewhat of a fairy tale with heavy emphasis on the truth about the war.For those that think there would be too much blood and gore all over the book will be disappointed in that the war does explode before our very eyes, but the descriptions and the depictions of the war and its horrors does not run over too many pages. The war is happening around Schlump and it is mentioned but the characters of the German Army come to a fore.It is easy to see why the Nazi censors would take against this book in that for a start it did not suit their narrative of being stabbed in the back by a Jewish leadership. Through Schlump, Grimm describes the German soldiers of the war as less than heroic, the military strategy as senseless, foolish and completely misguided, and the Kaiser of a coward who runs away in defeat. Grimm uses Schlump to describe the war as very cruel very poor joke in which all suffered no glory in this war for all.His descriptions of the officers not being leaders of men who kept themselves better fed and well away from the front lines and ask did you ever see an officer eat out of a mess tin? A question which men of that era were asking on both sides. The one occurring theme throughout the novel is 'Only the fools end up in the trenches, or those who've been in trouble.' Schlump then goes on to describe life behind the lines and one can clearly see the difference.This Schlump is a wonderful novel that deserves its day in the sun and ought to be more widely read as it also adds to the First World War canon of literature and looks at the war from a different perspective. A wonderful erudite book, short, sweet and delivers its own knockout punch against war.
Also by Hans Herbert Grimm