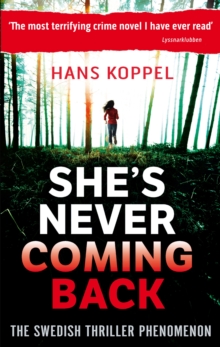 She's Never Coming Back
Paperback
Description
Mike Zetterberg lives with his wife Ylva and their daughter in a house just outside Helsingborg.
One evening, Ylva isn't home as expected after work.
Mike passes it off as a drink with a work friend, but when she's still missing the next day, he starts to worry. As Mike battles suspicion from the police and his own despair, he is unaware that Ylva is still alive, just a stone's throw from his own home.
Ylva has been drawn into a twisted plot of revenge and tragedy that leads back into her and her abductors' shared past...
Information
Format: Paperback
Pages: 400 pages
Publisher: Little, Brown Book Group
Publication Date: 01/01/2012
Category: Crime & mystery
ISBN: 9780751547825
Free Home Delivery
on all orders
Pick up orders
from local bookshops
Reviews
Showing 1 - 3 of 3 reviews.
Review by austcrimefiction
16/06/2015
It didn't really come as much of a surprise that somebody has taken up the "girl in the cellar" storyline, although in SHE'S NEVER COMING BACK the victim is an adult woman, kidnapped on her way home from work, held in the cellar of the house opposite her own home.Talking about this book is going to be a balancing act, as without giving away too much, there was just so much about it that simply did not work, that actually worried me. Worried me to the point where I got my partner to sit down and read it as well, so that we were then able to discuss the concerns that, in the end, we both shared.I don't think it's giving too much away to suggest there's something profoundly "film script" about this book. From the initial kidnapping, the perfect family and picturesque location that Ylva lives in, through to the use of a camera to allow her to see snippets of her family life, the book is clearly telegraphing the look, and the feel of a film. Whilst that's not necessarily always a bad thing, in this case there were a number of elements of the plot that just seemed too strongly geared towards the "film", with so many things left unexplained when there was plenty of space for explanation.The characterisation of the victim was, not to put too fine a point on it, decidedly dodgy. An adult woman, known to have been unfaithful to her husband in the past, there was some subtle undercurrent throughout the book that seemed to be drawing the reader's attention constantly to her sexual past, veering dangerously close to victim blaming. Having said that, there were a lot of extremely disconcerting female characterisations going on. The women in this book all seemed to be either morally ambiguous, sainted angels or barking mad. Not that many of the male characters fared a lot better - they were sooks, ineffectual, complicit (and in one very notable case, complicit in the face of professional expertise that should have had him running for the straight-jackets, the hills or both). Nothing in the motivation for the kidnapping, or in the manipulation and cruelty once Ylva was captive made much sense. The motivation was unconvincing, the supposed execution of the plan for her fate flew in the face of the "blueprint" being followed, and there were simply too many daft or missed opportunities, over the top or flat out unbelievable actions and way too many convenient lapses to allow even a smidgen of willing suspension of disbelief. Instead, there were so many glaring holes in the plot and inconsistencies in the characterisations that these readers became increasingly incredulous and profoundly frustrated and annoyed. Annoyed to the point where the evening after finishing the book we found ourselves carefully working through the "blueprint" and how you would go about addressing the requirements properly. Thankfully we don't have any neighbours to freak out and there's no chance we'd ever be able to dig a cellar through the quartz layer around these parts, as I doubt it would have been an easy conversation or stack of notes to explain to the local constabulary.Perhaps it's more a book for somebody looking for a film-styled thriller, with some carefully choreographed graphic cruelty and sexual violence, a blatantly manipulative happy ever after ending, built around a very current day scenario. It was a undoubtedly a very quick read. But for this reader (actually these readers) there were so many aspects of the plot and characterisations that were simply too far a stretch to be believable, plausible, justifiable or palatable.
Review by CookieDemon
16/06/2015
I've not read very much by the sudden influx of Scandi-writers (yet) and the few books that I have tried have been decent but not entirely memorable, so it's safe to say I approached this with a fair bit of trepidation. The summary on the back sounded fairly appealing though and of course the plaudit that it is a `Swedish Thriller Phenomenon' was a draw in itself. I was keen to see if this would warrant such an accolade and I have to say that I can be a bit picky in whether or not a thriller actually thrills me as well!The premise of this book was really good and sounded intriguing; when Ylva seemingly disappears after a night out with her colleagues, her husband Mike isn't overly concerned at first. However, as more time passes he becomes worried, as well as the prime suspect in her disappearance. Unbeknownst to both him and the police however, Ylva is very much alive- and close by- infact she is being held hostage in a soundproofed basement directly opposite her own house, with a camera rigged up by her captives so she can see exactly what is going on with her own family...I have to say that the plot of this book was compelling and it did hold my attention after a fairly slow beginning and what I initially thought would be a cast of too many characters. The writing is pacey with just the right amount of suspense to keep the reader going- you really want to know what is going to happen to Ylva as well as why she has found herself in the predicament she is. As the story slowly unravels with little twists and turns you can imagine the torture she is going through at being trapped but having to witness the outside world through a TV monitor and particularly the actions of her husband and young daughter surviving without her.Characters are well drawn and believable. Ylva's back story and past actions were interesting and added a nice dimension to the tale, as well as Mike's paranoia and weaknesses. I loved Sanna and her little quirks and foibles which were emphasised all the more when Mike was left on his own with her.I have however given this book four stars and not five because I did think that some of the scenes were a little bit gratuitous and thrown in just for the sake of it when perhaps the reader could have used their own imagination. Also, I would have liked to have read a bit more about the psychological impact that being held captive was having on Ylva, as opposed to the extracts at the top of the chapters instead.Overall, this was a compelling, absorbing thriller and definitely worth a read. As an aside, as `Hans Koppel' is a pseudonym, I would very much like to know who this writer really is so I could read more by him/her under their real name in future! *This review also appears on Amazon.co.uk*
Review by Daftboy1
16/06/2015
This book is set in Sweden. The main character is Mike his wife Ylva goes missing. No one knows whats happened to her. It turns out she has been kidnapped held by some new neighbours. This book is very easy to read a real page turner albeit silly in places. I really enjoyed it though. I can see this being made into a film soon.