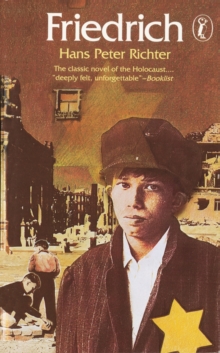 Description
Friedrich and his best friend were growing up in Germany in the early 1930s.
At first, Friedrich seemed to be the more fortunate, but when Hitler came to power, things began to change.
Friedrich was expelled from school and became an orphan when his mother died and his father was arrested and deported.This is a terrifying story of the destruction of a single Jewish family.
Information
Format: Paperback
Pages: 160 pages
Publisher: Penguin Books Ltd
Publication Date: 01/05/1987
Category: General
ISBN: 9780140322057
Free Home Delivery
on all orders
Pick up orders
from local bookshops
Reviews
Showing 1 - 4 of 4 reviews.
Review by carterchristian1
16/06/2015
This book is wonderfully organized. It is organized into 2 or 3 page sections and each is labeled with a date. It starts in 1925, well before Hitler, then builds to 1942. There is also a chronology at the end showing what was happening on the national German political scene and to the Jews in particular. This is an excellent book for anyone, not just young adults to get a sense of what happened in a brief decade and a half to change all of these lives.
Review by JanaRose1
16/06/2015
Hans and his best friend Friedrich have grown up together in the same building in Germany. However, Friedrich's family is Jewish. As Hitler comes to power, Friedrich's dad is forced to quit his job and Friedrich is kicked out of school. things change for Friedrich and his family. Friedrich's father is forced to quit is job, because Hitler does not allow Jews to own a business. While Hans joins the Hitler youth, he is forced to keep his friendship with Friedrich a secret. When Friedrich's mom is killed by the Nazi's and his father is sent to a concentration camp, Hans and his family try and help Friedrich. Although the book is slow in places, it is worth a read.
Review by Whisper1
16/06/2015
You may be inclined to ask what more can be said about the horrors of the holocaust. If so, then read this book.While somewhat slow in pace, hanging in there will bring reward. In fact, the pace appears deliberate and analogous to the creeping dangers of the Nazi party, that when in full horrific elevation many looked back and realized the day to day progress as one denial after another slowly happened to Jews.This story is told by Hans whose family is struggling. Out of work in a post WWII German economy, Hans' father worries about how to feed his wife and son. Above them lives his friend Friedrich who is Jewish His father is a government worker with a stable job. Generous with his resources, Friedrich's family graciously assists where and whenever they can.As the Nazi party takes hold, Han discovers that his father has a very lucrative job. Joining the Jungvolk, Hans is enamored with a sense of purpose and belonging. When Friedrich is denied education, his father losses his job and the Nazi's destroy their apartment, killing Friedrich's mother, Han and his family must make a moral decision to help.They do so reluctantly but not at the level that would place their status in a precarious manner.Not wanting to spoil the ending, I'll simply say I encourage you to find a copy and read it.
Review by engpunk77
27/08/2015
The nameless narrator recounts a series of memories that illuminate Friedrich's story as a Jew in German society during the thirties and early forties. There is no concentration camp or ghetto in this narrative, but rather the gradual discrimination that the family endures, never believing that there is a real threat; never in this century could people revert to the savagery of the middle ages.<br/><br/>The narrator explains what he did, what he thought, how the friendship grew &amp; changed, but never seemed to feel guilty or really torn for not doing much to make a difference. There were no lessons learned,no predictable character growth which sets this apart from much young adult fiction out there. I liked the fact that the protagonist and his family had no names, as they didn't do anything truly honorable, and it's the Schneiders who will be remembered. One would expect the story to be narrated from Friedrich's point of view, but Richter's choice of making his friend tell the story is much more poignant, lending insight into how such events were even possible. <br/><br/>There were no scenes to make your stomach turn, fortunately, but enough information to ignite fury. Ultimately, this novel shows the persecution of the jews from a gentile perspective, of a gentile who disagrees with what's happening but doesn't have the motivation to object or pass up the benefits of joining along (the more common story). Nothing extraordinary to aspire to here--more humdrum real life and boy does it suck sometimes. <br/><br/>
Also by Hans Richter