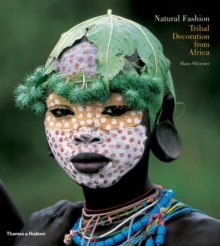 Natural Fashion : Tribal Decoration from Africa
Paperback
Description
Photographer Hans Silvester travelled to the remote Omo Valley to capture the striking body art of the local Surma and Mursi tribes.
Traditionally nomadic, the tribes decorate the territory of their naked bodies with whatever nature offers, such as leaves, flowers, grasses, butterfly wings and snail shells plus the occasional pen top or Kalashnikov cartridge.
The spontaneously woven hats and headdresses are part fashion, part trophy display, part protection from the sun but mainly just the expression of a joyful creative spirit.
Silvesters astonishing photographs capture these decorations to form a parade of African fashion that is as rich as it is ephemeral.
Information
Format: Paperback
Pages: 168 pages, 160 colour illustrations
Publisher: Thames & Hudson Ltd
Publication Date: 09/02/2009
Category: Photographs: collections
ISBN: 9780500288054
Free Home Delivery
on all orders
Pick up orders
from local bookshops
Reviews
Showing 1 - 1 of 1 reviews.
Review by cocoafiend
16/06/2015
This book is a photographic study of the body ornamentation practices of the Surma and Mursi tribes, who live in the remote Omo valley at the border of Ethiopia, Kenya and Sudan. They make use of body paint and natural accessories such as jewelry and head coverings made of roots, gourds, grasses, flowers, fruits, feathers, shells and leaves. This is not a ritual practice undertaken for special occasions - rather it's something the Surma and Mursi do naturally and daily as an expression of creativity born of a close relationship with nature. The photographs in the book are quite beautiful and demonstrate the tribes' varied and playful use of ornamentation and body patterning. Unfortunately, the text accompanying this book is entirely inadequate to situating this practice culturally. Four paltry pages discuss, in fairly sweeping terms, the materials deployed, the sculptural surface of the body, the social practice of painting one another, the role of body art in seduction, and the unfortunate impact of tourism in turning a natural practice into a self-conscious and paid industry. Silvester's total lack of self-reflexivity is a bit troubling too. While complaining that these cultures are being destroyed by tourism, he expresses no hint of the book's role in this process - by exhibiting these art practices as spectacle in a glossy book of photographs (of bodies always in danger of being fetishized), does Silvester not participate in promoting tourism to the Omo valley? Likewise, when he describes the destructive economy of the foreign gaze (paying for photos of 'exotic' subjects), he fails to explain the context in which his own photographs were taken. What did his subjects understand of his purpose? Did he pay them? In some areas, payment for photos of tribal body ornamentation has become compulsory. Silvester suggests that threatened violence is not a rare occurrence when expected payment isn't tendered. Given this context, it seems likely that Silvester paid as well. Yet why does he represent commercial photography (his own) as outside of his critique of the destructive impact of these payments on the tribes - who, he argues, are losing touch with the naturalness of their practices and beginning to experience them as artificial performances for outsiders? These important questions are never addressed.If Natural Fashion is meant to be a visual anthropological record, there really needs to be far more context for understanding the photographs as something more than objects of beauty for the western gaze. That said, the photographs in themselves are fascinating inasmuch as they demonstrate the ubiquity of fashion as a human practice and stunningly illustrate the power and breadth of ornamentation that can be quickly derived from nature.
Also by Hans Silvester