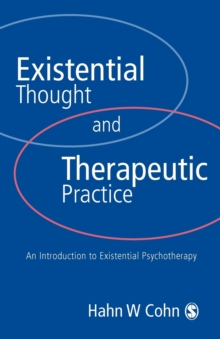 Existential Thought and Therapeutic Practice : An Introduction to Existential Psychotherapy
Paperback / softback
Description
`A lucid and much-needed account of existential psychotherapy...
As well as locating existential psychotherapy within a historical and philosophical context, Hans W Cohn encompasses various therapeutic issues and provides some vivid and sensitive passages of case material...
I found the book provided a concise and clarifying account of the underlying philosophy and of the psychotherapeutic practice...
The existentialist challenge to Freud outlined in the book provides an alternative point of view to counter potentially engulfing aspects of a psychoanalytic vision.
This is a stimulating book which is a valuable contribution towards dialogue between different approaches of psychotherapy' - International Journal of Psychotherapy`If you want at least one "existential psychotherapy" text in your library, buy this one.
It's a winner' - The Psychotherapy ReviewThe theoretical framework used by many counsellors and psychotherapists is predominantly `psychodynamic', rooted in psychoanalytic theory and frequently felt to be inadequate for an understanding of the many-shaded spectrum of disturbances experienced by clients.
Although many practitioners have discovered existential-phenomenological thought, they may wonder what relevance these philosophical ideas have to their actual practice, to their day-to-day meetings with clients and to the relation between client and therapist.
There is often a divide between thought and practice, and this book bridges that gap.
The author introduces the history and ideas of existential phenomenology and existential psychotherapy, and shows how therapeutic phenomena familiar to all therapists and counsellors can be understood from an existential viewpoint.
Hans W Cohn also demonstrates how the existential approach opens up access to issues that other therapeutic orientations have neglected, such as the difficulty of choice, the burden of responsibility and the inevitability of death.
The existential approach is constantly compared to the relevant psychodynamic counterpart, so that readers can assess the unfamiliar against a background of the more familiar.
Information
Format: Paperback / softback
Pages: 144 pages
Publisher: SAGE Publications Inc
Publication Date: 02/07/1997
Category: Phenomenology & Existentialism
ISBN: 9780761951094