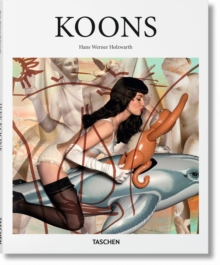 Description
From basketball tanks to flower puppies, the creations of Jeff Koons (born 1955) have become part of our popular culture, blurring the borders between high and low art.
This new 96-page publication offers an updated, accessibly priced edition of TASCHEN's 2007 monograph, the most extended survey of Koons art ever made and the definitive reference on his practice.
The book offers the complete Koons at a glance, from his early work with inflatable flowers through today.
We find his trademark sculptures of stainless steel rabbits or shining balloon figures in mirror-polished steel, colorful paintings of party accessories, and cut-up comic figures interwoven with statements by the artists.
Chapter texts by Kathy Siege] have been abridged to form quick introductions to each work series, and Eckhard Schneider's essay has been condensed into a succinct introduction into this unique visual universe of pleasure, pop, and play.
Free Home Delivery
on all orders
Pick up orders
from local bookshops