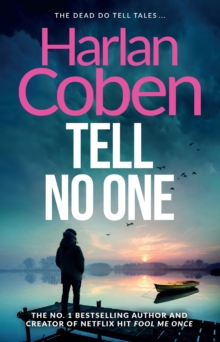 Description
David Beck has just received an email from his dead wife...
The thriller which made SUNDAY TIMES No.1 bestselling author Harlan Coben a household name.Eight years ago David Beck was knocked unconscious and left for dead, and his wife Elizabeth was kidnapped and murdered.Dr Beck re-lived the horror of what happened that day every day of his life.
Then one afternoon, he receives an anonymous email telling him to log on to a certain website.
The screen opens on to a web cam - and it is Elizabeth's image he sees.
As Beck tries to find out if Elizabeth is truly alive, and what really happened the night she disappeared, the FBI are trying to pin Elizabeth's murder on him. And everyone he turns to seems to end up dead...
Information
Format: Paperback
Pages: 352 pages
Publisher: Orion Publishing Co
Publication Date: 28/05/2009
Category: Crime & mystery
ISBN: 9781409117025
Free Home Delivery
on all orders
Pick up orders
from local bookshops
Reviews
Showing 1 - 5 of 5 reviews.
Review by bkinetic
16/06/2015
Harlan Coben is a master of this genre. Although this book is enjoyable, it is not quite as good as some of this other ones. The idea that a couple who love each other more than anything would completely separate from one another for years, yet yearn for each other, makes for a great mystery. However, the reason for such a separation has to be ultimately very compelling, and I don't think the author pulled that difficult task off. Flawed, but still a page-turner.
Review by christinelstanley
16/06/2015
I loved the fast pace and and twists in this, my first Harlan Coben novel. The main characters were well developed, although the cops were portrayed as beyond incompetent initially. Truely better than expected.
Review by SteveAldous
16/06/2015
A page-turner with perhaps one too many twists in its tail. Nonetheless I was hooked on the book throughout and the mix of first and third person narrative was not as jarring as I have found it in other books. A solid and well written thriller.
Review by bsquaredinoz
16/06/2015
Eight years ago David Beck and his wife Elizabeth took their annual trip to the remote place where they had shared their first kiss. That night Beck was beaten and his wife kidnapped. She was found dead several days later, apparently the victim of a serial killer. Beck has since put some semblance of a life back together but it quickly unravels when he starts to receive messages that appear to be from his supposedly dead wife at the same time as two bodies are found in the spot where Elizabeth was kidnapped from. As Beck tries to determine if his wife might be alive after all, the authorities become convinced it was Beck not the serial killer who was responsible for her death and some nefarious characters who seem to know what really happened eight years ago take whatever action is necessary to ensure no one else finds out the truth.<br/><br/>I know it's an over-used phrase but this book was, for me, a genuine page turner. Sure there are coincidences and plot contrivances to be found but I still read the book as quickly as I physically could, sneaking a few pages whenever I had a spare moment. The original premise hooked me immediately and the story, although far-fetched, sustained its internal logic throughout. There were multiple switches in point of view from first person (Beck's) to third (virtually everyone else's at one point or another) which helped give the frantic sense that lots of action was taking place simultaneously.<br/><br/>While the yarn was enjoyable unfortunately the characters were a little too predictable and trite for me to really connect with. Beck is so full of wholesome goodness (he's a white doctor in a ghetto neighbourhood who never judges anyone not even the pregnant 12-year olds and is still in love with his dead high school sweetheart and is even kind to puppy dogs….) that if I met him in real life I'd want to beat him myself. Almost all of the rest of the characters are stereotypes too: the drug dealer with a heart of gold who helps Beck to go on the run and the evil generic Asian who has seen too much and can kill a man with his bare hands and so on. About the only character who I was really interested in as a person rather than a plot device was Beck's best friend Shauna the plus size model who "stalks into a room as though it offends her".<br/><br/>However, in a thriller more than almost any other genre plot is king and I can't go past the fact that the book kept me interested from the first page to the last.
Review by col2910
16/06/2015
Blurb........<br/><br/><br/>Eight years ago David Beck was knocked unconscious and left for dead,<br/>and his wife Elizabeth was kidnapped and murdered.<br/><br/>Dr Beck re-lived the horror of what happened that day every day of his life. Then one afternoon, he receives an anonymous email telling him to log on to a certain website. The screen opens on to a web cam - and it is Elizabeth's image he sees. <br/><br/>As Beck tries to find out if Elizabeth is truly alive, and what<br/>really happened the night she disappeared, the FBI are trying to pin<br/>Elizabeth's murder on him. And everyone he turns to seems to end up<br/>dead...<br/><br/>Well, my third Coben book in a couple of months and whilst not the greatest thing I've ever read in my life, it's far from the worst either. A slightly implausible plot, which I'm not going to disect. Face it with all fiction you need to suspend belief, so hey just go with it.<br/>Was I entertained? Yes.<br/>Did I want to discover how it all panned out, and by definition keep my head stuck in it, oblivious to the pre-Christmas chaos around me? Yes. <br/><br/>3 from 5, and 1 book closer to catching back up with my wife!<br/><br/>Purchased a few years ago, from a charity shop - judging by the sticky label on the back.<br/>Hey, I do buy new sometimes!<br/>