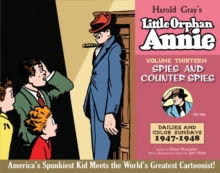 Complete Little Orphan Annie Volume 13
Hardback
Description
Will "The World's Greatest Cartoonist" get a chance to prove his worth? And if so, will the public take into their hearts an orphan character with the unlikely name of "Little Widget, the Waif"?
That may be the least of Annie's worries as she finds herself caught between spies and counterspies in an adventure that reprises the quest for "Daddy" Warbucks' atomic bomb formula! And if that weren't enough, the inscrutable Joe Christmas enters the picture, the mysterious Mr. Am returns, and Annie comes face to face with the man she most likely fears more than any other-the deadly criminal named Axel!
Volume Thirteen of The Complete Little Orphan Annie reprints all daily and Sunday strips from January 12, 1947 to August 18, 1948.