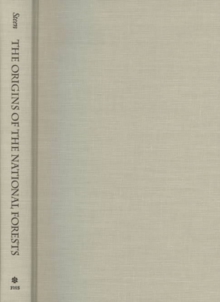 Origins of the National Forests
Hardback
Description
The national forests lay across America's diverse ecological and political geography, their 191 million acres ocuppying about 10 percent of the nation's land base.
On the occasion of the centennial of the National Forest System, Origins of the National Forests examines the issues that have confronted the development, management, and use of the national forests since their inception in 1891. The national forests are a major source of wood, water, minerals, forage, animal life and habitat, and wilderness.
Yet questions of who controls and who benefits from the resources have posed problems and conflicts from the origins of the Forest Service to the present.
Based on a 1991 Forest History Society conference, the essays collected here discuss a range of important topics surrounding our national forests, including the relationship between the federal and state systems that regulate the forests; the privately owned lands within the forests that are governed by federal statutes, state laws, and county ordinances; the ill-defined rights of those who lived on the land long before it was a national forest and were forced off the land; and the effect of early policymaking decisions made within the framework of the emerging Conservation Movement.Contributors.
Ron Arnold, Pamela A. Conners, Mary S. Culpin, Stanley Dempsey, Peter Gillis, Donn E. Headley, Robert L. Hendricks, Stephen Larrabee, Patricia Nelson Limerick, Dennis L.
Lynch, Michael McCarthy, Char Miller, Joseph A. Miller, James Muhn, Kevin Palmer, Donald Pisani, John F.
Reiger, William Rowley, Michael Ryan, William E. Shands, Harold K. Steen, Richard White, Gerald W. Williams
Information
Format: Hardback
Pages: 334 pages
Publisher: Duke University Press
Publication Date: 17/04/1992
ISBN: 9780822312529
Free Home Delivery
on all orders
Pick up orders
from local bookshops