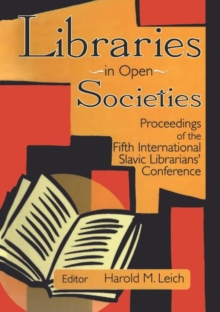 Libraries in Open Societies : Proceedings of the Fifth International Slavic Librarians' Conference
Paperback / softback
Description
Learn how libraries have risen to the challenges created by the fall of Communism and the rise of information technology!
How do librarians and researchers face war, social upheaval, and other challenges after the fall of Communism and the rise of digital technology?
Libraries in Open Societies offers fascinating answers to this and many other questions while providing an overview of this rapidly changing arena.
An international panel of authors who know the specialized concerns of libraries in Eastern Europe and the former USSR addresses topics that include the difficulty of preserving and acquiring materials, the importance of international cooperation, and the benefits and pitfalls of electronic media.
This book also discusses the rise of the Internet in Russia, the movement of international bibliographies onto the Web, and other features of the digital revolution.
Libraries in Open Societies, itself an example of the value of international cooperation in the modern world, will be an important addition to your bookshelves!
Other absorbing topics in Libraries in Open Societies include: reconstruction of libraries in Bosnia the role of the Polish emigre press in Great Britain guidelines for developing Slavic literature collections the creation and restoration of digital archives throughout the region electronic information delivery in the United States and abroad journals in Slavic and East European librarianship Baltic collections in North America and Western Europe the role digital technologies have played in restoring Bosnian printed heritage materials lost during the 1992-1995 war
Free Home Delivery
on all orders
Pick up orders
from local bookshops