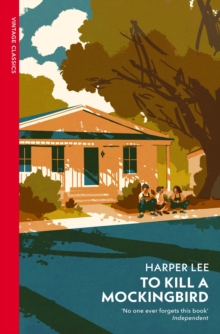 To Kill a Mockingbird
Paperback
Description
THE ORIGINAL TEXT 'Shoot all the Bluejays you want, if you can hit 'em, but remember it's a sin to kill a Mockingbird.' Atticus Finch gives this advice to his children as he defends the real mockingbird of this classic novel - a black man charged with attacking a white girl.
Through the eyes of Scout and Jem Finch, Lee explores the issues of race and class in the Deep South of the 1930s with compassion and humour.
She also creates one of the great heroes of literature in their father, whose lone struggle for justice pricks the conscience of a town steeped in prejudice and hypocrisy.
Information
Format: Paperback
Pages: 320 pages
Publisher: Vintage Publishing
Publication Date: 01/02/2004
ISBN: 9780099466734
Other Formats
Paperback from £5.59
Hardback from £10.00
CD-Audio from £16.25
Paperback / softback from £7.69
Free Home Delivery
on all orders
Pick up orders
from local bookshops
Reviews
Showing 1 - 2 of 2 reviews.
Review by OscarWilde87
16/06/2015
Set in the USA of the 1930s, Harper Lee's <i>To Kill a Mockingbird</i> tells the story of Jean Louise 'Scout' Finch, a young girl growing up in the American South. Narrated by Scout Finch the reader experiences a young girl coming of age and making sense of her surroundings. At the same time this novel tells the story of Tom Robinson, a Black man who is falsely accused and convicted of the rape of a white woman. However, at the end of the trial it is perfectly clear to almost everyone in the court room that Tom Robinson did not rape the white woman. Yet, Black people are considered second class humans in the Deep South of 1930 and have therefore no chance of a fair trial. A third issue in this novel is Atticus Finch trying to be the perfect father for his kids Jem and Scout. He is depicted as a liberal man who sees the good in everyone.The fact that the story is told through the eyes of a young girl makes it very insightful to my mind. The seeming naivety shown in the narrator's view on racial inequality is something I loved about the novel. Things can be so perfectly clear and so painfully difficult at the same time when seen through the eyes of a child. The novel touches upon topics such as rape, gender roles and racial inequality but nevertheless I had the feeling that the narration was somewhat warm. I cannot really put my finger on it but the combination of the narrative voice and the story that is told was a perfect fit for me.There are many possible readings of Harper Lee's <i>To Kill a Mockingbird</i>. I read it as a story of racial inequality and as a bildungsroman. These two aspects are probably the most prominent ones in the novel but to do the novel justice I will certainly read it again some time. I can recommend this novel to everyone. Period. No need to restrict that statement to certain groups of readers. If you have not read it, read it. If you have, you probably know what I mean. 4.5 stars for this one.
Review by john257hopper
16/06/2015
This is a re-read, after seeing a play version at the Orchard Theatre in Dartford. In those circumstances, I have noticed little incidents and aspects of the story and characters I didn't pick up on first time round which add to the subtlety of the overall effect of reading this great and timeless novel.