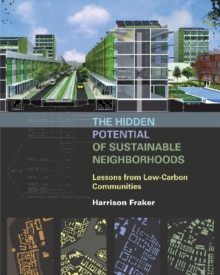 The Hidden Potential of Sustainable Neighborhoods : Lessons from Low-Carbon Communities
Paperback / softback
Description
How do you achieve effective low-carbon design beyond the building level?
How do you create a community that is both liveable and sustainable?
More importantly, how do you know if you succeeded? Harrison Fraker goes beyond abstract principles to provide a clear, in-depth evaluation of four first generation low-carbon neighbourhoods in Europe, and shows how those lessons can be applied.
Using concrete performance data to gauge successes and failures, he presents a holistic model based on best practices.
The four case studies are: Bo01 in Malmo and Hammarby in Stockholm, Sweden and Kronsberg in Hannover and Vauban in Freiberg, Germany.
Each was built deliberately to conserve resources: all are mixed-used, contain at least 1,000 units, and employ aggressive strategies for energy and water efficiency, recycling, and waste treatment.
For each case study, Fraker explores the community's development process and principles, goals and objectives as they relate to urban form, transportation, green space, energy, water, and waste systems, social agenda, overall performance, and lessons learned. Later chapters compare the different strategies employed by the case-study communities and develop a comprehensive model of sustainability, looking specifically at how these lessons can be employed.
Fraker also shows that sustainability isn't limited to newly built neighbourhoods - retrofits can benefit even our most established communities.
This whole-systems approach promises not only a smaller carbon footprint, but an enriched form of urban living.
Information
Format: Paperback / softback
Pages: 248 pages
Publisher: Island Press
Publication Date: 25/11/2013
Category: Sustainability
ISBN: 9781610914086