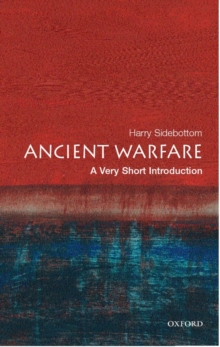 Ancient Warfare: A Very Short Introduction
Paperback
Description
Greek and Roman warfare differed from other cultures and was unlike any other forms of warfare before and after.
The key difference is often held to be that the Greeks and Romans practised a 'Western Way of War', where the aim is an open, decisive battle, won by courage instilled in part by discipline.
Harry Sidebottom looks at how and why this 'Western Way of War' was constructed and maintained by the Greeks and Romans, why this concept is so popular and prevalent today, and at whether or not this is an accurate interpretation.
All aspects of ancient warfare are thoroughly examined - from philosophy and strategy to the technical skills needed to fight.
He looks at war in the wider context - how wars could shape classical society, and how the individual's identity could be constructed by war, for example the Christian soldier fighting in God's name.
He also explores the ways in which ancient society thought about conflict: Can a war be just?
Why was siege warfare particularly bloody? What role did divine intervention play in the outcome of a battle?Taking fascinating examples from the Iliad, Tacitus, and the Persian Wars, Sidebottom uses arresting anecdotes and striking visual images to show that the any understanding of ancient war is an ongoing process of interpretation.
ABOUT THE SERIES: The Very Short Introductions series from Oxford University Press contains hundreds of titles in almost every subject area.
These pocket-sized books are the perfect way to get ahead in a new subject quickly.
Our expert authors combine facts, analysis, perspective, new ideas, and enthusiasm to make interesting and challenging topics highly readable.
Information
Format: Paperback
Pages: 192 pages, Half-tones and drawings throughout
Publisher: Oxford University Press
Publication Date: 18/09/2004
Category: General & world history
ISBN: 9780192804709
Free Home Delivery
on all orders
Pick up orders
from local bookshops
Reviews
Showing 1 - 1 of 1 reviews.
Review by jcbrunner
16/06/2015
Presenting a millennium of warfare on less than 120 pages is a daunting task. It can be done - if an author establishes a framework and concentrates on key messages. Unfortunately, this author does neither. This book is a poor choice for a reader seeking a fast, general introduction to the topic as the book is badly structured and misses its topic. He shows a vexing tendency of not naming his references in the text (p. 85), "some scholars see hoplite battle in a different way". He lists these scholars in the (quite good if biased) further reading section (and a knowledgeable but not the general reader will identify them easily). Read Keegan's History of Warfare for an entertaining primer or Azar Gat's heavier War in Human Civilization for a serious discussion of Ancient warfare.For a book about Ancient warfare, the author is surprisingly ignorant about the basics of soldiering and military history. It shows right at the start with his obsession with the film Gladiator. Ancient warfare through the eyes of an art history student. His method consists of a free interpretation of single works of art: "This lack (ie a missing beard) of male secondary sexual characteristics juxtaposed with the carefully illustrated male genitals of both opponent and horse creates an impression of femininity." Well, it's all in the eyes of the beholder. Exposing a horseman's "package" is a challenge for a Picasso. But in today's post-modern anything goes, all opinions are equally valid.The book is filled with other deep insights (p.16): "For example, when inhabitants of the Roman empire looked to the east, unsurprisingly they saw 'eastern' cultures." Chapter 2 expands on Roman foreigner and gender stereotypes (relevance?). Chapter 3 titled "war and society" is a cursory look at hoplite warfare, the Roman imperial machine and the "barbarization" of the Late Roman army. The author wonders how the Greek soldiers achieved to get into a phalanx formation. Well, two approaches could have solved this question. Either witness how current soldiers perform a roll call. Or examine the source texts. It all boils down to self-organization based on simple rules (front rank as a position of honor, the right as the most important place, veterans to the front, youngsters in the middle, steady old men at the rear).Chapter 4 starts with "after 9/11 ..." and offers a cursory overview of some historians' and philosopher's thoughts about war (again without rigor or framework). Chapter 5 "strategy" argues that some of the Ancient commanders' world conquest plans were more than figments. A little familiarity with recent dictator's ideas (such as Napoleon's plans to conquer India) might have led to a more realistic assessment. He then presents a potted version of Luttwak's Roman grand strategy as well as logistics - with plenty of howlers, eg "one type of expense incurred in modern wars was not always present in the ancient world: paying the troops" (p.74). Chapter 6 "fighting" is a Keeganesque attempt which rapidly breaks down in a hyperventilating presentation of a hoplite and Macedonian phalanx, the Roman legionary, cavalry, motivation, siege and naval warfare. It reads like a student paper relying on a limited set of sources. Chapter 7 returns to the Western Way of War and Gladiator. Presenting first the author's interpretation of some illustrations from Marc Aurel's column, it ends in rambling thoughts about the Western Way of War (p. 128): "It is much better, and safer, to see the 'Western Way of War' for what it is: a long-lived, highly adaptable, and powerful ideology. The Western Way of War is constantly reinvented, as, of course, it has been in this book." I concur with Sidebottom that the Western Way of War is a historically doubtful concept. Ideology has little to do with science, as does reinvention and facts. So Sidebottom's critique of Hanson applies to him too. Too much interpretation based on too little data. Read at your own peril.
Also in the Very Short Introductions series | View all