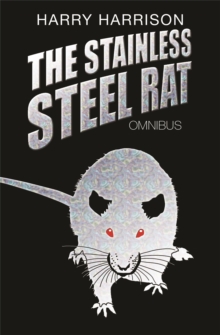 The Stainless Steel Rat Omnibus
Paperback
Description
A stainless steel rat for a stainless steel world ...Meet Slippy Jim, aka The Stainless Steel Rat, aka James Bolivar DiGritz.
A man of many names and many talents ... all of which add up to make one of the greatest con men of all time.Charming, quick-witted, physically fit, a master of disguise, a skilled liar, an accomplished bank robber and exceptionally talented at breaking and entering, he's everything a master thief should be.
He's also about to be caught, turned, and sent back out onto the streets as part of the Special Corps.Join the adventure in this omnibus edition of the first three Stainless Steel rat adventures: The Stainless Steel Rat, The Stainless Steel Rat's Revenge, and The Stainless Steel Rat Saves the World.
Information
Format: Paperback
Pages: 448 pages
Publisher: Orion Publishing Co
Publication Date: 20/11/2008
Category: Science fiction
ISBN: 9780575081710
Free Home Delivery
on all orders
Pick up orders
from local bookshops
Reviews
Showing 1 - 1 of 1 reviews.
Review by reading_fox
16/06/2015
At least it's a fast read. The back cover blurb makes comparisons to Terry Pratchett's work in fantasy. Which is just ludicrous. Sir Terry is funny, and satirical. Harry Harrison is neither. Perhaps the best comparison is Conan the Barbarian. See stuff, break things get stuff. I think it's supposed to be a farce, but a farce is supposed to be funny.Slippery Jim in a thief in a utopian human empire 32000 years in the future. Where people still smoke. A relatively peaceful future where crime of all sorts has been socialogically altered out of people. Except for a few atavists like slippery Jim. Who runs around with an arsenal of miniturised weapons, that none of the police or military have. After getting caught by robbing one bank too many (would they really have physical currency or even any currency in 32K AD?) Jim is coopted intot he Special Corps, by the master thief Inkspp himself. Who manages to lose any traces he once had of being such a thief. Jim gets to track down a rogue battleship being stolen by another masterthief - Angelica. In the later two stories Angelica becomes an annoyingly simpering typical Bond girl, I fail to see how this is farce. Maybe it's a product of the times it was written in. But compare with say LeGuin ti shows a marked lack of foresight. The only area that was well predicted (or lucky) is that Earth in 20000 has suffered huge and irreversable climate warming.As a change from the Golden Era of SF that was being written at the time this was perhaps a dramatic shift. But it's much closer to being a B movie than an increase in literary quality. It's internally inconcistent, it suffers from poorly imagined future technologies, there's no character development or depth, even for the hero. There are no jokes, just badly written inept 'bad guys'. On the plus side - it is fast paced, actions rush from one scene to another. The TimeTravel was almost well done, and at least acknowledged the paradoxes created. But that's about it.Readable only as a contrast to other works of the time - badly dated and not worth it now.