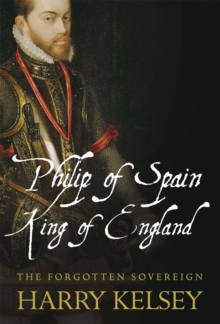 Philip of Spain, King of England : The Forgotten Sovereign
Hardback
Description
The Spanish Armada conjures up images of age-old rivalries, bravery and treachery.
However the same Spanish monarch who sent the Armada to invade England in 1588 was, just a few years previously, the King of England and husband of Mary Tudor.
This important new book sheds new light on Philip II of Spain, England's forgotten sovereign.
Previous accounts of Mary's brief reign have focused on the martyrdom of Protestant dissenters, the loss of English territory, as well as Mary's infamous personality, meaning that her husband Philip has remained in the shadows.
In this book, Harry Kelsey uncovers Philip's life - from his childhood and education in Spain, to his marriage to Mary and the political manoeuvrings involved in the marriage contract, to the tumultuous aftermath of Mary's death which ultimately led to hostile relations between Queen Elizabeth and Philip, culminating in the Armada.
Focusing especially on the period of Philip's marriage to Mary, Kelsey shows that Philip was, in fact, an active King of England and took a keen interest in the rule of his wife's kingdom. Casting fresh light on both Mary and Philip, as well as European history more generally, this book will be essential reading for anyone interested in the Tudor era.
Information
Format: Hardback
Pages: 256 pages, 25 bw integrated
Publisher: Bloomsbury Publishing PLC
Publication Date: 14/11/2011
ISBN: 9781848857162