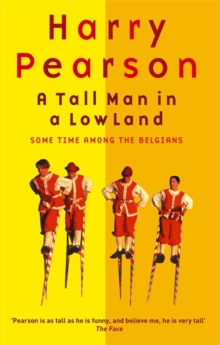 A Tall Man in a Low Land : Some Time Among the Belgians
Paperback
Description
Most British travel writers head south for a destination that is hot, exotic, dangerous or all three. Harry Pearson chose to head in the opposite direction for a country which is damp, safe and of legendary banality: Belgium. But can any nation whose most famous monument is a statue of a small boy urinating really be that dull? Pearson lived there for several months, burying himself in the local culture. He drank many of the 800 different beers the Belgians produce; ate local delicacies such as kip kap (jellied pig cheeks) and a mighty tonnage of chicory and chips. In one restaurant the house speciality was 'Hare in the style of grandmother'. 'I didn't order it. I quite like hare, but had no wish to see one wearing zip-up boots and a blue beret.' A TALL MAN IN A LOW LAND commemorates strange events such as The Festival of Shrimps at Oostduinkerke and laments the passing of the Underpant Museum in Brussels.
No reader will go away from A TALL MAN IN A LOW LAND without being able to name at least ten famous Belgians.
Mixing evocative description and low-grade buffoonery Harry Pearson paints a portrait of Belgium that is more rounded than a Smurf after a night on the mussels.
Information
Format: Paperback
Pages: 256 pages, Section: 8, B&W
Publisher: Little, Brown Book Group
Publication Date: 02/09/1999
Category: Humour
ISBN: 9780349112060
Free Home Delivery
on all orders
Pick up orders
from local bookshops
Reviews
Showing 1 - 1 of 1 reviews.
Review by MiaCulpa
27/08/2015
This is my favourite Harry Pearson tome; it's laugh out loud, as opposed to the odd smile one gets in later Pearson endeavours, and it's about mad Belgians, rather than soccer or war games.That the Belgians are mad is not a statement that will ever meet with opposition, so we just get to hear, for example, some of Belgium's odder festivals, such as stilt fighting and throwing pseudo-animals off roofs, the life of writer Georges Simenon, who claimed to have slept with 10,000 women, although one of his wives claimed it was probably closer to 1200, and beer.When I read "A Tall Man in a Low Land" all those years ago, it made me want to go to Belgium and spend a few weeks aimlessly travelling between breweries. As it turned out, I spent a few days there on the way to an Irish wedding. And I got told off by a Belgian train inspector.