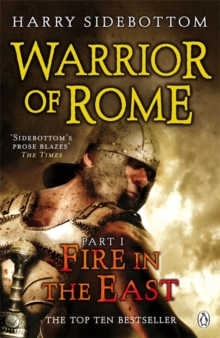 Warrior of Rome I: Fire in the East
Paperback
Description
Warrior of Rome I: Fire in the East is Harry Sidebottom's historical debut.The year is AD 255 - the Roman Imperium is stretched to breaking point, its authority and might challenged along every border.
The greatest threat lies in Persia to the east, where the massing forces of the Sassanid Empire loom with fiery menace.
There the isolated Roman citadel of Arete awaits inevitable invasion.
One man is sent to marshal the defences and shore up crumbling walls.
A man whose name itself means war: a man called Ballista.
Alone, Ballista is called to muster the forces and the courage to stand first and to stand hard against the greatest enemy ever to confront the Imperium.This is part one of Warrior of Rome: an epic of empire, of heroes, of treachery, of courage, and most of all, a story of brutal bloody warfare.Dr Harry Sidebottom is a leading authority on ancient warfare - he applies his knowledge with a spectacular flair for sheer explosive action and knuckle-whitening drama.
Fans of Bernard Cornwell will love Sidebottom's recreation of the ancient world.Praise for Harry Sidebottom:'Sidebottom's prose blazes with searing scholarship' The Times'The best sort of red-blooded historical fiction' Andrew Taylor, author of The American BoyDr. Harry Sidebottom is Fellow of St Benets Hall, and Lecturer at Lincoln College, Oxford - where he specializes in ancient warfare and classical art.
Information
Format: Paperback
Pages: 448 pages, none
Publisher: Penguin Books Ltd
Publication Date: 01/03/2009
Category: Historical adventure
ISBN: 9780141032290
Other Formats
EPUB from £3.99
eAudiobook MP3 from £20.96
Free Home Delivery
on all orders
Pick up orders
from local bookshops
Reviews
Showing 1 - 2 of 2 reviews.
Review by JGolomb
16/06/2015
Fire in the East is a strong newcomer in the category of Roman Military Historical Fiction. The book is smart, finely detailed, violent and exciting.Author Harry Sidebottom is a published professor of ancient history and he draws very detailed accounts of all aspects of Roman military life in the mid 3rd Century. This is the true victory of what's intended to be a 3-book series titled "Warriors of Rome". Few historical fictions contain the detailed notes, glossary and bibliography that Sidebottom presents in "Fire". He's clearly done his research, and worked his academics into his richly built story.The core of the story is quite simple. A barbarian from the north, Ballista, climbs the ranks of the Roman Military (quite common during the second and third centuries in the Roman Empire), and is assigned to lead the defenses of a key city on the far eastern outskirts of the Empire. He's strong, smart, witty, emotionally tortured, loyal, and blonde. The fictional city is called Arete, nestled on two sides by deep ravines, on another side by the might Euphrates river, and on the fourth by a desert. Roman intellegence reports that the Sassinid Empire is planning a springtime attack on the city. It's Ballista's job to prepare for a siege and lead the defense of this important outpost at the crossroads of the Eastern World.While the details are painted with colorful details and make the story unique, Sidebottom has turned a specific kind of military event into as strong of a character as any of the Roman or Persian good and bad guys alike. The true star of "Fire" is the siege - the machinations of defense and attack. Sidebottom tells of ballistae, hidden pits, spies and city-taking siege towers. etc. The story hums along as Ballista prepares for the siege, many items discussed in great detail, but some held back for a literary surprise.There's no lack of violence. As detailed as Sidebottom is with his descriptions of military life, he's equally as vivid in his depiction of military death. Huge stones take off a man's head while his body still stands. Arrows hit soldiers and Sassanids alike...killing and maiming in any number of ways. It wasn't too gory and added to the effect and realism of the story.Overall, I enjoyed this book. Sidebottom incorporates a theme of betrayal and espionage throughout the story that's uneven and ultimately disjointed and disappointing. This branch of his story is the strongest reason I rate the book with 3 stars instead of 4. I may revise the relative weight of this negative once I'm able to get my hands on the rest of the series, but as a stand alone, the plot gaps leading up to the flat conclusion were awkward enough to knock it down a notch in my mind.A strong historical novel should hit on at least two key qualities - an ability to transport the reader to a foreign place and time; and a strong story that legitimizes (at least in the reader's mind) that history. I think Sidebottom does a nice job in both categories...he's at his best, though, with the history.
Review by shikari
16/06/2015
A historical war novel, rather in the style of Bravo Two Zero and other ex-soldier lit. Deserves four stars only in the sense of being **** (add your own favourite Anglo-Saxon or Middle Dutch word to taste; though 'poor' would fit, Sidebottom himself would use something more pungent). Hated it. But it is well-researched, and I don't begrudge the 50 minutes it took me to read it.
Also in the Warrior of Rome series | View all