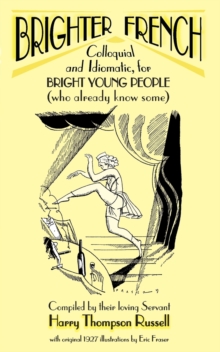 Brighter French : Colloquial and Idiomatic, for Bright Young People (who Already Know Some)
Paperback
Description
A witty guide to idiomatic French written in 1927 by a remarkable author identified for decades only as 'H-T-R-'. -- 'H-T-R- doesn't just want you to parrot French phrases.
The essential of fluent speech is to think as the French do.
As he says, it won't do just to formulate in English what you want to say and then utter a translation.
Those who have reached a good level in French (or, indeed, any language) will recognize the hurdle of idiomaticity - the native speakers always have a way of saying things which is different from your correct but painfully generated French.'[ - Elsevier SYSTEM MAGAZINE (2010), Robert Vanderplank, Director, Language Centre, University of Oxford]. -- Example: [1] 'What did he die of?' 'Nobody knows.
But then nobody knew what he lived on, either.' [1] "De quoi est-il mort ? -- On ne sait pas. D'ailleurs on ne savait non plus de quoi il vivait." -- Or (to illustrate a use of the subjunctive): [53] 'One moment, Monsieur - I can't see you.
I'm in my chemise.' 'Take your time, my dear, I'll wait till you take it off.' [53] "Un instant, Monsieur - je ne peux pas vous recevoir.
Je suis en chemise. -- Prenez tout votre temps, chere amie, j'attendrai que vous l'ayez retire." -- New extended edition, with new biographies (including 28 photos) of the author, Harry Thompson Russell, and of the illustrator, Eric Fraser.
Contains all of the original 1927 drawings, plus many new drawings by Fraser, who was one of the leading illustrators of the 20th Century. Equally suitable for French or English speakers -- 'Ces ouvrages ont le merite de servir egalement a l'usage des francophones et des anglophones.'
Information
Format: Paperback
Pages: 336 pages, 20 b+w drawings + 28 b+w photographs
Publisher: Phaeton Publishing Limited
Publication Date: 01/05/2010
Category: Language phrasebooks
ISBN: 9780955375675
Free Home Delivery
on all orders
Pick up orders
from local bookshops
Also by Harry Thompson Russell
Also in the Brighter French series