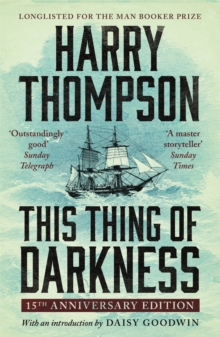 This Thing of Darkness
Paperback
Description
In 1831 Charles Darwin set off in HMS Beagle under the command of Captain Robert Fitzroy on a voyage that would change the world. Tory aristocrat Fitzroy was a staunch Christian who believed in the sanctity of the individual in a world created by God. Darwin, the liberal natural historian destined for the church, went on to develop a theory of evolution that would cast doubt on the truth of the Bible and the descent of man. The staunch friendship forged during their epic expeditions on land and sea turned into bitter enmity as Darwin's theories threatened to destroy everything Fitzroy stood for . . .
Information
Format: Paperback
Pages: 768 pages
Publisher: Headline Publishing Group
Publication Date: 16/01/2006
ISBN: 9780755302819
Free Home Delivery
on all orders
Pick up orders
from local bookshops
Reviews
Showing 1 - 3 of 3 reviews.
Review by hazelk
16/06/2015
If it hadn't been for the online book group I belong to I wouldn't have come across this book. It's part fact, part fiction, regarding a tumultuous sea voyage an various landings in South America by Commander Robert Fitzroy and the relationship, amongst others, with the eventual passenger Charles Darwin. There's good characterisation of the main protagonists, the everpresent tension of will they or won't they make it through some storm or violent episode. I'm not giving justice to this book in just a short summary as it deals with relationships with native peoples, science, depression (Fitzroy's) and is certainly not just a rip-roaring adventure yarn.
Review by riverwillow
16/06/2015
This is the first book I have ever read as a result of knowing the writer - I worked at the same company as Harry Thompson for more than five years and our paths crossed on several occasions. Right now that's out of the way I have to say that this is an amazing book which follows in the nineteeth century tradition, not just in its size.On the surface this is a tale of scientific discovery overtaking christian doctrine. But the novel encompasses more than this fundamental division between these two men and their beliefs, as it focusses on Fitzroy the idealistic christian who believed that all men, whatever their race, were equal before God, a view which resulted in his recall to England from being Governor General of New Zealand. It is his idealism which brings him most into conflict not only with Darwin, but also with the Victorian establishment. Fitroy is portrayed as a man ahead of his time, he bought a discipline to the crew of the Beagle which undoubtedly saved their lives, he developed a system of weather forecasting which was rejected by the establishment because keeping trawlers in port was costing too much money.Fitzroy also had a secret, he suffered from manic depression throughout his life, and the novel explores how the crew of The Beagle and Fitroy dealt with his symptons.This is an amazingly complex novel addressing issues which are still the subject of passionate debate today.
Review by edwardsgt
16/06/2015
This is a long book of over 700 pages, which covers the life of Robert Fitzroy, Captain of the Beagle during Darwin's voyages and skilfully interweaves historical fact with fictional dialogue. This is a compelling account of a strong-minded and exceptional character, whose life unfortunately has been in the shadow of Darwin (and even Bynoe), but who deserves greater recognition for his achievements. The research which has gone into this novel leaps out from every page and is a master of its type. Highly recommended.