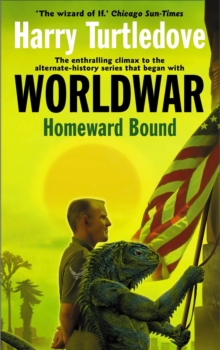 Description
The brilliant conclusion to Turtledove's epic alternate history of the second half of the twentieth century, which began with the Worldwar trilogy and continued with the Colonisation trilogy. Halfway through World War II aliens invaded Earth. They were repelled - but not for long.For the aliens known as the Race, the conflict with Earth has yielded dire consequences. Mankind has developed nuclear technology, years ahead of schedule, forcing the invaders to accept an uneasy truce with nations who can defend themselves. But it is the Americans, with their primitive inventiveness, who discover a way to launch themselves through distant space - and reach the Race's home planet itself.As the twentieth century ends, a daring few men and women embark upon a journey no human has made before and arrive at the place called Home, at the centre of a flashpoint with terrifying potential.For their arrival on the alien homeworld may drive the enemy to make the ultimate decision - to annihilate an entire planet, rather than allow the human contagion to spread.
Information
Format: Paperback
Pages: 608 pages
Publisher: Hodder & Stoughton General Division
Publication Date: 01/10/2005
Category: Science fiction
ISBN: 9780340734834
Free Home Delivery
on all orders
Pick up orders
from local bookshops
Reviews
Showing 1 - 1 of 1 reviews.
Review by johnthefireman
16/06/2015
This bills itself on the front cover as "The enthralling climax" to the Worldwar series, in which an alien species arrives to conquer earth during World War II and finds it has bitten off rather more than it can chew. I picked this up in the secondhand bookshop at the top of the Yaya Centre in Nairobi (the only place where I have ever seen these books on sale - does Kenya have a secret Turtledove fan club?) and realised I had completely missed a whole intervening series, entitled Colonisation, which followed on from the original Worldwar series. But Turtledove's rather slow and turgid writing included enough hints about what had happened in the missing volumes to make me quite glad that I hadn't read them. I had all the information I needed to follow the story. It's quite a clever ending to the series (hoping that it is the ending and not just the prelude to yet another new trilogy), although I guessed the startling new technology many chapters before it was revealed. Talking of trilogies, the blurb on the back cover refers to Worldwar and Colonisation as trilogies, whereas last time I looked the former had four books in it, not three. Even more so than the earlier ones, this focuses rather too much on the USA. It would have been nice to have a book which gave more attention to earth's response to aliens, rather than just the USA (with a passing mention of the Deutsch, Russians and one or two others). Some of the dialogue is very trite. Attempts to inject humour via two comic space pilots are completely overdone. Not being a regular reader of science fiction, I was not aware of Robert A Heinlein's "Stranger in a Strange Land" (1961) until I happened to pick up an old copy in the depths of southern Sudan where one tends to read anything one can find. It seems Turtledove was not the first to imagine an alien species who do things very slowly indeed after great consideration, and who have been around much longer than humans, as Heinlein's Martians fit the bill. But then, I suppose, so do Tolkien's elves and ents. The idea of a species that only mates in season is also found in Heinlein's book.All in all, though, it's not a bad read and not a bad ending to the series.