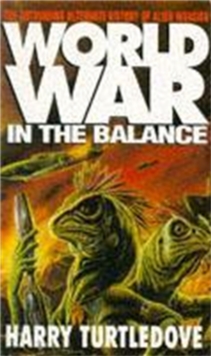 Worldwar : In the Balance
Paperback
Description
World War II seethes across the planet. Hostilities spread in ever-widening circles of destruction: Nazi Germany, Soviet Russia, Britain, France, Japan, Italy Africa - the fate of the world hung in the balance. Then the real enemy arrives. Out of the skies comes an invasion force the like of which Earth has never known - and worldwar is truly joined. The invaders are inhuman and they are unstoppable. Their weaponry is overwhelming and their goal is simple: Fleetlord Atvar has arrived to claim Earth for the Empire.'The wizard of If.' Chicago Sun-Times'The standard-bearer for alternate history.' USA Today
Information
Format: Paperback
Pages: 672 pages
Publisher: Hodder & Stoughton General Division
Publication Date: 03/11/1994
Category: Science fiction
ISBN: 9780340618394
Free Home Delivery
on all orders
Pick up orders
from local bookshops
Reviews
Showing 1 - 4 of 4 reviews.
Review by johnthefireman
16/06/2015
A fascinating scenario where aliens invade during World War II, leading to a fragile alliance between all the major combatants to resist the new common enemy. Although it does feature Russians, Germans, Japanese and British, I find it rather US-oriented. But still a great read.
Review by john257hopper
16/06/2015
Another splendid novel from this author, the third I have read in less than two months. Aside from the intrinsic fascination of the alternate timeline, one of the author's great strengths is the conviction and thoroughness with which he depicts alien patterns of thinking and attitude - they are not just humans who happen to look like lizards.
Review by SonicQuack
16/06/2015
Turtledove has created a niche market all to himself through his alternate-history novels. In The Balance sees the start of a grand war on Earth between humans and an invasion force from the stars. What makes this so original is the setting: World War II. Subsequently, In The Balance is a thought-provoking, well crafted and fresh approach to sci-fi. At times it gets bogged down with too much detail and the sheer number of characters, all with central plot lines, which make it hard work to keep up at times. Turtledove skillfully ensures we keep track, without too much redundant narrative though. In conclusion, In The Balance is a heavy read at times and underneath is an interesting and certainly epic read.
Review by HanGerg
16/06/2015
A pretty fun premise - WWII hangs in the balance, when from out of the skies comes a far superior enemy - the lizards! The lizards have more technology - tanks and helicopters that run on hydrogen, nuclear weapons, and radar - just at the point where mankind hasn't discovered any of these handy things. However, the reconaissance mission was done many years earlier, so they are expecting an enemy for whom the broadsword is still high tech, so have a rude awakening when the encounter people that have got airplanes, tanks and guns of their own. Also in mankind's favour is the fact that lizardkind's civilisation has been stable for thousands of years, and they are not used to adapting to rapidly changing circumstances in a way that humans are. So although humans have the inferior technology, their use of cunning tactics soon means they have, if not the upper hand, at least a fighting chance against these invaders from the skies. The story is told from multiple narrative viewpoints, ranging from a German tank commander, a female pilot from Russia, a Polish Jew trapped in the Warsaw ghetto, a Chinese peasant, and for some reason, several members of an American minor league baseball team that have widely diverging fates after their train is bombed by the lizards. One of the strengths of the book is that we also see things from the lizard's point of view - both common ground troops and the high command. They are not evil monsters, simply soldiers that have been sent to subjugate the Earth and bring it into their Empire. And they are not here to slaughter all the humans, just pacify them. Also, they don't seem to have invented torture, and treat captured enemy combatants with respect if not kindness, something they are not alway afforded from their human counterparts. On the downside, this is a LONG book, that jumps from each narrative point fairly regularly, breaking up the flow and momentum, making it a struggle at times. Also, what it doesn't say anywhere on the cover of the book, is that this is only the first of a series of four, so having slogged through the whole thing, I wasn't given any resolution, which was rather annoying. I'm not sure if I care enough the track down and read another three volumes, but taken on it's own, this was quite a fun, and at times unexpectedly thoughtful book.