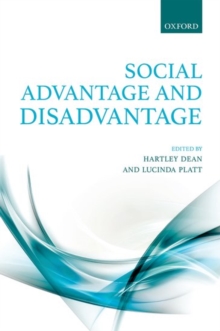 Social Advantage and Disadvantage
Paperback / softback
Description
Social advantage and disadvantage are potent catch-all terms.
They have no established definition but, considered in relation to one another, they can embrace a wide variety of more specific concepts that address the ways in which human society causes, exacerbates or fails to prevent social divisions or injustices.
This book captures the sense in which any conceptualisation of disadvantage is concerned with the consequences of processes by which relativeadvantage has been selectively conferred or attained.
It considers how inequalities and social divisions are created as much by the concentration of advantage among the best-off as by the systematic disadvantage of the worst-off.
The book critically discusses - from a global and a UK perspective - a spectrum of conceptual frameworks and ideas relating to poverty, social exclusion, capability deprivation, rights violations, social immobility, and human or social capital deficiency.
It addresses advantage and disadvantage from a life course perspective through discussions of family and childhood, education, work, old age, and the dynamics of income and wealth.
It considers cross-cutting divides that are implicated in thesocial construction and maintenance of advantage and disadvantage, including divisions premised on gender, 'race', ethnicity, migration and religion, neighbourhood and the experience of crime.
Information
Format: Paperback / softback
Pages: 392 pages
Publisher: Oxford University Press
Publication Date: 21/01/2016
Category: Social discrimination
ISBN: 9780198737087