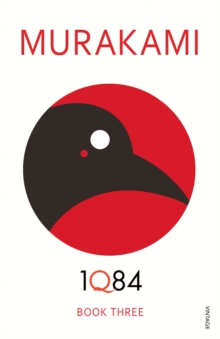 Description
Book Two of 1Q84 ended with Aomame standing on the Metropolitan Expressway with a gun between her lips.
She knows she is being hunted, and that she has put herself in terrible danger in order to save the man she loves.
But things are moving forward, and Aomame does not yet know that she and Tengo are more closely bound than ever. Tengo is searching for Aomame, and he must find her before this world's rules loosen up too much.
He must find her before someone else does.
Information
Format: Paperback
Pages: 464 pages
Publisher: Vintage Publishing
Publication Date: 01/08/2012
ISBN: 9780099549055
Free Home Delivery
on all orders
Pick up orders
from local bookshops
Reviews
Showing 1 - 3 of 3 reviews.
Review by Sigfrej
16/06/2015
It´s so repetitive that I could die. Sorry but the first book was ok after that it became lame, in this third book I found myself be reading some kind of detective story and that worked not for me. So disappointed.
Review by Eyejaybee
16/06/2015
An amazing novel. I started with some trepidation as I have occasionally struggled with Murakami in the past. However, I was completely captivated by this novel within a few pages, and certainly well before the end of the first chapter.The novel is set in 1984 and focuses on two separate characters, both aged around thirty, living in Tokyo. We are first introduced to Aomame (pronounced Ah-oh-mah-may), a young woman travelling in the back of a luxurious taxi on an elevated freeway. As the taxi dries along Janacek's Sinfonietta comes on the radio. Although she hasn't heard the piece before Aomame suddenly realises that she knows the work, and the history of its Czech composer. Finding the traffic gridlocked she decides to leave the cab and descend to ground level by means of a conveniently-situated emergency staircase. From that point on everything in her life starts to change.Meanwhile Tengo, Aomame's contemporary, is excited by a manuscript he has just read. Although his principal occupation is as a maths teacher in a Tokyo cramming school, his great ambition is to be a writer. As the book opens Tengo has had some minor success in having a few short stories published, and he also writes a fake astrology column for a magazine. In addition to this he also works as a screener for a literary competition, sifting through manuscripts submitted for consideration for a literary prize, similar to our Costa Prize. One of the entries has been submitted by a seventeen year old girl and though haltingly written it sets out a fascinating story involving life in a secret sect where strange, almost supernatural events seem to happen.Murakami devotes alternative chapters to Aomame's and Tengo's stories between Aomame and Tengo, and with each new chapter pulls the reader deeper and deeper into an utterly absorbing story, and effortlessly ensures total suspension of disbelief. This was actually the second time I have read this novel, and though it was less than a year since the first time I still found its impact astounding.
Review by xuebi
16/06/2015
The third and final volume of Haruki Murakami's <i>1Q84</i> concludes the story of Aomame and Tengo, as they finally find each other and escape the parallel world of 1Q84/The Cat Town. Yet, this final volume feels different from the previous two: the magical realism and surrealist elements are fewer and the addition of Ushikawa's surveillance plot basically retells the plot of the previous two volumes.<br/><br/>The main problem here is that Murakami does not explore any of the plotlines he spent the previous two volumes developing: the Little People, the effects of the Leader's death on Sakigaki, and the significance of the two moons for example.<br/><br/>Though the second volume ends on an exciting and intriguing cliff-hanger, the third volume feels repetitive and padded. The inaction that permeates this volume makes it a disappointing successor to the first two.