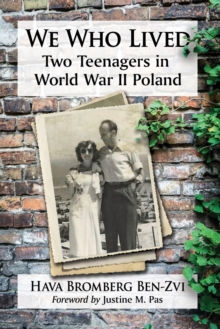 We Who Lived : Two Teenagers in World War II Poland
Paperback / softback
Description
No fiction can match the excitement of this real-life tale of suspense and survival. Eva Bromberg and Rysio Sokal had the misfortune of coming into adolescence just as the Germans invaded their homeland in 1939.
We Who Lived is a personal memoir, authentic and true in fact and feeling.
It is a tale of fear, danger, courage, resilience, and hope. Eva (later Hava) evaded the Germans and was never caught and never sent to a concentration camp.
She survived entirely on her own, in total isolation from anyone she knew and could trust.
Never hidden, she lived in the midst of Polish population, always on guard, aware of the danger of being discovered and betrayed. Rysio (later Ephraim) seventeen at the outbreak of World War II grew up in the bosom of a prosperous and loving family.
His idyllic youth was, however, embedded in the atmosphere of raising Polish nationalism and anti-Semitism.
Following the Soviet occupation of his home town in eastern Poland, he and his family were deported to Siberia by the Soviet authorities as prisoners and "enemies of the people." A tragedy at the time, this deportation ultimately saved their lives.
Liberated from Siberia by the German attack on the Soviet Union in 1941 and the resulting change in political alliances, he fought the Germans within the Polish Navy and the British armed forces.
Reaching Palestine he joined the Israel Defense Forces, was wounded in battle to defend the fledgling State of Israel. With War's end, both Hava and Ephraim faced new realities and challenges, survival in a world they were hardly prepared for, and the need for education, profession, new goals and loyalties.
They met in 1947, both young, and hopeful. Written in the first person, unique in its authenticity, simplicity and sincerity. We Who Lived is not just a lesson in history, but a terrific reading adventure.
It is a glorious story of spirits triumphant over some of the worst human savagery our world has endured.
Information
Format: Paperback / softback
Pages: 231 pages, 61 photographs
Publisher: McFarland & Co Inc
Publication Date: 30/12/2017
Category: True stories
ISBN: 9781476670089
Free Home Delivery
on all orders
Pick up orders
from local bookshops